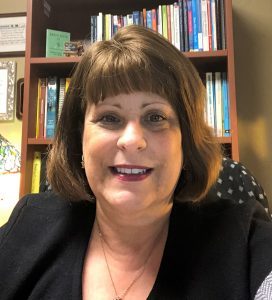 Dean of the College of Education
Ph.D., Curriculum and Instruction, specialization in Literacy, Southern Illinois University at Carbondale
M.A., Education, Endorsement in Literacy, Western Kentucky University
B.S., Elementary Education, University of Arkansas at Little Rock
Email: mstroder@tusculum.edu
Campus Phone: 5475
Came to Tusculum: 2018
---
Dr. Miriam Stroder is the Dean of the College of Education. Dr. Stroder also servers as professor of education.
"I have worked closely with Dr. Stroder since she arrived at Tusculum and have seen firsthand her contribution to the quality of the College of Education," Dr. Hunsader, Provost and VPAA, said.
"Her enthusiasm to pursue new opportunities that have expanded her knowledge and supported our mission have further positioned her as an effective leader who will keep the College of Education on the cutting edge. Our College of Education will continue to excel."Dr. Stroder earned a Bachelor of Science in Elementary Education from the University of Arkansas at Little Rock, a Master of Arts in Education with an endorsement in Reading and Writing from Western Kentucky University, and a Ph.D. in Curriculum and Instruction with a specialization in Literacy from Southern Illinois University at Carbondale.
Dr. Stroder came to Tusculum University from Asbury University in Wilmore, Kentucky where she taught undergraduate and graduate synchronous literacy courses in the College of Education. She also participated in College of Education's spring 2015 National Council for Accreditation of Teacher Education (NCATE) Legacy accreditation.Prior to her career in higher education, she taught elementary, middle, high school and SPED in several states around the country.
Dr. Stroder is co-authoring a book and has presented nationally and internationally every year for the last 12 years at the American Educational Research Association (AERA). Her research interests are in socio-cognitive, sociocultural, and constructivist literacy learning and teaching aspects, multicultural education and culturally responsive literacy instructional applications and implications, teacher efficacy, and qualitative research methods. She served for four years as a mid-career and dissertation awards committee reviewer for her AERA special interest group: Critical Examination of Race, Ethnicity, Class, and Gender in Education
Dr. Stroder is married to Larry Stroder, who earned his bachelor's degree in science from the School of the Ozarks in Branson, MO and his master's in Business Administration from the University of Arkansas at Little Rock. Larry's quality assurance career spans management of food production lab facilities and corporate quality assurance positions for Best Foods, Nabisco, and Unilever. They have three grown children (two daughters and one son), and three grandsons.