Members of the Class of 1965, are celebrating their 50th anniversary since attending Tusculum College, and will be honored Saturday, May 9, 2015, at the spring commencement ceremony at the College.
The Golden Pioneers celebration began in May 2006 and will include a variety of activities that include recognition and social celebration.
Donning a golden cap and gown, each participant will be presented a commemorative medallion marked with the year 1965 and will be recognized by Dr. Moody for their dedication and loyalty to the College for the past 50 years.
The class members participating will join the Commencement processional and be recognized from the podium by Dr. Nancy B. Moody, president of the College.
For more information, contact Joni Parker, assistant director of alumni relations, at 423-636-7303.
Tusculum Golden Pioneers 2014

How could it possibly be half a century since walking across that stage to graduate from Tusculum?  A lot has happened in those 50 years, both personally and at Tusculum College. Marriages, births, deaths, more degrees and skills, successes, failures, and a plethora of other events and memories on a personal level, Viet Nam, 9/11, a string of good and not so good presidents, a collage of national state and local events, from military involvements to weather disasters, heros and dastardly individuals and deeds, all blurred in a  collage of human destinies.
Yet, McCormick Hall and the newly reconditioned Arch still stand as icons of Tusculum College. However, if you snap your fingers to bring you back to the present, you see many changes that have occurred on campus when dad, who worked on the Tusculum maintenance crew for thirty five years, attended to every corner. There are more dorms, the faculty apartments in the old college have been replaced by The President Andrew Johnson Museum and Library, the Doak House has become a host of many events from school children, blue grass on Friday nights (but Frank Creek and the old spring still gurgle by)  a new athletic complex involving baseball, football, tennis, the Niswonger Commons for basketball and other venues and buildings. Some of the old dorms no longer house students, but a plethora of teachers and administrative personnel. The old steam plant if gone as are the old water tanks. The mighty oak ("Neath the oaks that so long have been standing") near the Old College has reached new heights and has received recognition in the annals of "tree-dom" as one of the largest in the state.
A fairly new tradition of Golden Pioneers was launched a few years back; consequently us old dudes from the class of 1964 were summoned to these hallowed grounds the weekend of May 10, to reminisce and reenact some aspects of those earlier days. It was one of the few opportunities to sing along with the Charles Oliver Gray creation, the Tusculum alma mater, that I have had probably in the 50 years since graduation.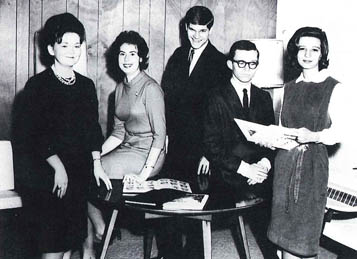 The Golden Pioneers schedule started with a reception at the President's House. Dr. Nancy and Tom Moody greeted the baker's dozen or so that returned for the occasion, along with their spouses and others.  We were all shuttled to the door in a sprinkle of rain in a golf cart from parking at the bottom of the hill. After a period of getting reintroduced and reminiscence of the good old days, and intervening events, a toast was proposed and amended by individual contributions, including a remembrance of those who were no longer among us. Dr. Moody and Tom circulated among us getting acquainted and prying some stories from the class ventures from us as they progressed. They were very gracious hosts.
After an hour and a half or so allotted to catching up, we changed venue and regrouped at the Whistle Stop restaurant, which is now housed in the old Dobson's Store structure, at the bottom of the hill, for a very nice dinner from the menu. The food and camaraderie were both enjoyed by all. I got a chance to talk with Joni Parker during dinner. She was one of the main persons behind the scenes who orchestrated the entire Golden Pioneer weekend to make it go off without a hitch.
On graduation morning, (after parking in our reserved spots) we gathered at the Perk in Niswonger Commons, for breakfast and to receive golden gowns, mortars, tassels, our Golden Pioneer medallions and instructions. We were lined up in alphabetical order and marched in to the graduation arena to our reserved seats with graduating students (only half of the class as the number of graduates has grown such that there are now two sessions of commencement — one at 10 a.m. and one at 2 p.m. — marching in behind us and faculty in front of us. It was a far cry from the 80-plus graduates in 1964. There were a total approaching 400 by the time the event was concluded in the afternoon. The Golden Pioneers were recognized as a group and then individuals were asked to stand when our names were called.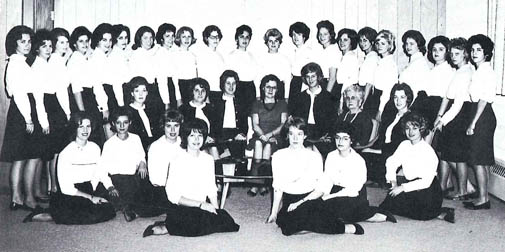 The obligatory speeches highlighted by an outstanding and enthusiastic talk from a graduating scholar and athlete. A graduation ceremony is pointless without the walk of the graduates to pick up their diplomas. To friends and family and to the individual graduates is the moment to be remembered for a lifetime. To a group of old dudes in the audience it is not only a highlight of enjoyment and reflection with these individuals, but also a seemingly endless time of the marching of feet across the stage with a plethora of foot wear, ranging from tennis shoes, flats, and difficult to describe spikes and amazingly thick soled shoes. We congratulate and salute all those new graduates and wish them well.
Following the ceremony, we retired back to the Perk to leave our golden garb and have a lunch with the other Golden Pioneers, before returning to our mostly "retired" lives. I wish to give a special appreciation to Michelle Arbogast of the college staff who volunteered to escort my almost 93-year-old mother to a special seat and retrieve her at the end of the event in the ensuring crowd. The event was flawless from where we sat and Tusculum should be proud of Dr. Moody and all staff involved, including the hospitality assistants at the President's house, the security staff, the maintenance staff who set up the gymnasium, all the others involved and especially Eugenia Estes who, camera in hand, seemed to be everywhere taking pictures but in a very professional manner with most of the subjects not even being aware. I believe those Golden Pioneers who did not come would have enjoyed it immensely, along with us. I encourage future classes make an effort to achieve unanimous attendance.
Jim Southerland
Class of 1964
Golden Pioneer 2014
The agenda for the Golden Pioneers for May 2015 Commencement:
Friday, May 8, 5:30 to 6:45 p.m.
Reception with Dr. Nancy B. Moody
and Mr. Tom F. Moody at the President's house
with Medallion Ceremony
Friday, May 8, 7:00 p.m.
Dinner at The Whistle Stop (Dutch Treat)
Saturday, May 9, 8:30 a.m.
Breakfast in Pioneer Perk, Niswonger Commons
Saturday, May 9, 10:00 a.m.
Commencement Ceremony
Pioneer Arena, Niswonger Commons
Saturday, May 9, Following Commencement
Golden Pioneer Luncheon
Pioneer Perk, Niswonger Commons
Registration
Register for the Golden Pioneers Event.