Dr. Scott Hummel, a proven leader with a track record of fundraising success and enrollment growth, is the 29th president of Tusculum University. He joined the Tusculum family Feb. 17, 2020, as the next step in a successful 30-year education career, the last 12 of which he served in high-level positions at William Carey University, a private Christian institution affiliated with the Mississippi Baptist Convention.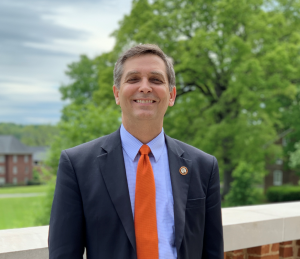 As executive vice president and provost for William Carey since 2013, Dr. Hummel demonstrated strong performance, advising the president on all major decisions and heading the academic enterprise. He also helped lead the crisis response team when a tornado struck the university's Hattiesburg, Mississippi, campus in 2017. This storm damaged nearly 50 buildings and destroyed six more. Dr. Hummel was intimately involved in the entire response, and William Carey repaired or rebuilt every affected building.
From 2008-13, Dr. Hummel played a vital role in William Carey's financial success and community outreach as vice president for advancement and church relations. He helped raise millions of dollars for startup costs for new health care programs and endowed scholarships and managed William Carey's denominational relations activities.
During his time at William Carey, the number of students doubled, and the university added several majors, started multiple medical programs and created eight doctoral programs. In addition to his administrative roles, Dr. Hummel served as a religion professor, teaching courses about the Old Testament, Biblical Backgrounds, the Greco-Roman World and the Ancient Near East.
Calling himself a professor at heart, Dr. Hummel began his education career as a home-based teacher with the Fort Worth Independent School District in Texas in 1989. He also was a special education math teacher and a science teacher before embarking on his higher education career.
He taught religion courses as an adjunct professor at Southwestern Baptist Theological Seminary in Fort Worth in 1993, 1994 and 1998 and as a biblical studies professor at LeTourneau University in Longview, Texas, from 1998-2008. From 2004-2008, Dr. Hummel was chairman of LeTourneau's Department of Biblical Studies and Christian Ministries, for which he grew enrollment by 500 percent.
A first-generation college student, Dr. Hummel earned a Bachelor of Arts in biblical studies from William Carey in 1987. He received a Master of Divinity in biblical languages in 1991 and his doctorate in biblical backgrounds and archeology in 1996 from Southwestern Baptist Theological Seminary. He also studied at Brite Divinity School at Texas Christian University in Fort Worth and, as a Rotary Ambassadorial Scholar, at the Hebrew University of Jerusalem.
Dr. Hummel has served as interim pastor for several Baptist churches and one Presbyterian church in Mississippi and Texas. He has been a member of Rotary International since 2002 and was president of the Longview-Greggton Rotary Club in Texas from 2007-2008 and the Hattiesburg Rotary Club from 2013-2014.
Dr. Hummel is married to his wife, Starr, a high school science teacher, who earned her bachelor's degree from Appalachian State University. The Hummels have three daughters.