LiveText Information for Tusculum University Students
LiveText: All candidates in this course are required to have a LiveText account.  If you do not already have a LiveText account, Amanda Delbridge at adelbridge@tusculum.edu will send you account information via your official Tusculum email after the drop/add period has passed. The College of Education is handling all new LiveText accounts internally, so you will not need to purchase it yourself. If you already have a LiveText account, this change will not impact you. New LiveText accounts are valid for 7 years and will be used for most of the courses in your program for submission for Critical Tasks and Key Assessments.
After receiving a membership code, you will need to register the account. The register button is the third purple button in the center of the screen.
Under Register Membership, click the Register button
Choose your Role in STEP 1 by selecting Student.
Enter Key Code in STEP 2. You will need to enter your unique key code that you receive via email at your official Tusculum email address.
Enter Your Personal Information in STEP 3 and Create your LiveText Account in STEP 4. Complete the registration process by completing and verifying the required information and acceptance of the Terms of Service.
Click the Register My Membership Account button.
After successfully completing the registration process, LiveText will display the Congratulations page. This page will display your username and the option to click to reveal your password.
Note: When entering your name, use your official name on record at your institution. You do not need to enter information in the School PIN field unless your institution requires or has provided you with a School PIN.
It is recommended that you use Mozilla Firefox as your browser. Explorer is not recommended.
---
Getting Started: Log into LiveText. After logging in you will see your Dashboard. Below is a sample screenshot. Click the Help tab located in the right corner of the page.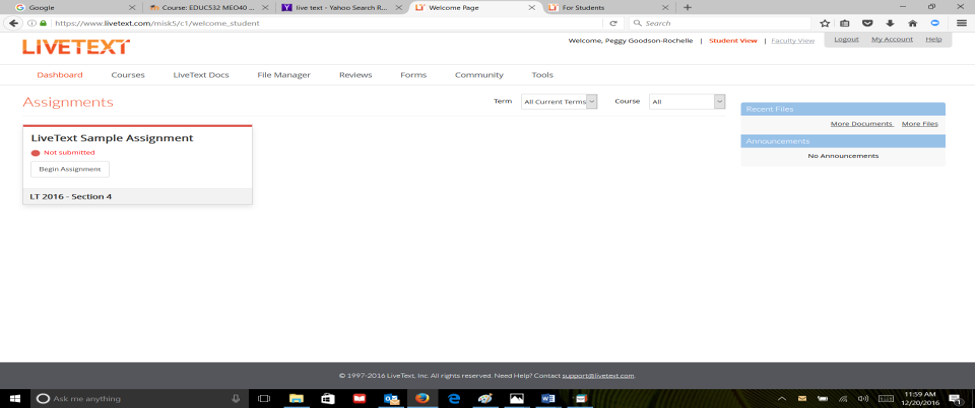 Click the orange "For Students" button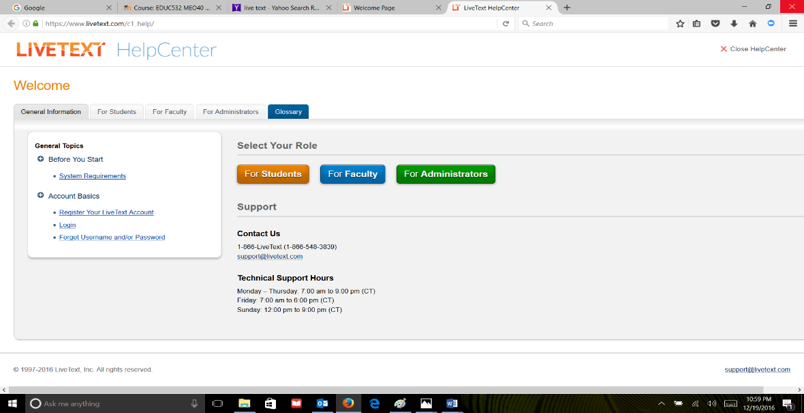 Click the "LiveText Student Dashboard Video" for a 7 minute video with instructions.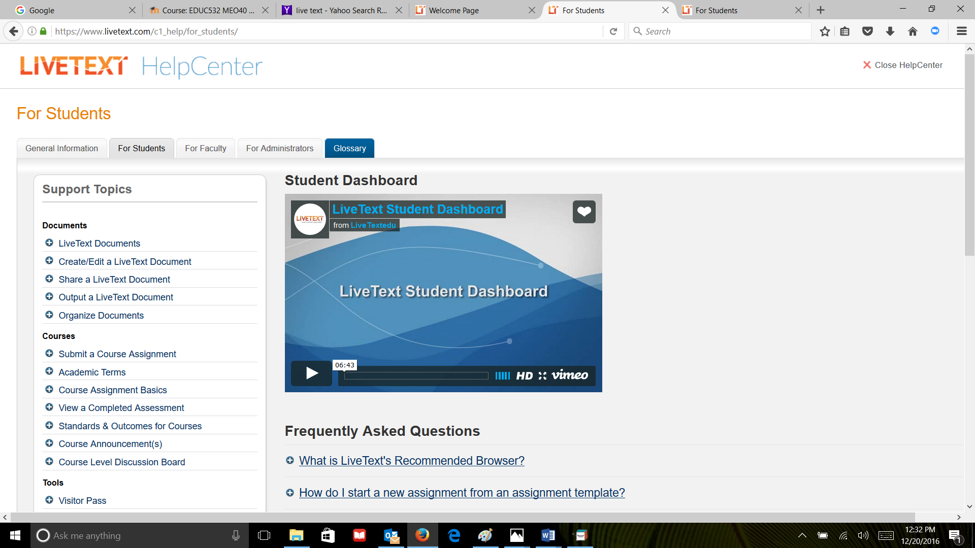 After watching the video, notice the Frequently Asked Questions section and the training resources (pdf documents) at the bottom of the page.
---
Please do not hesitate to contact your LiveText Support center at (1-800-311-5656) or use the link below.
support@watermarkinsights.com
Technical Support Hours
Monday – Thursday: 8:00 am to 9:00 pm (Eastern)
Friday: 8:00 am to 7:00 pm (Eastern)
Saturday: (email only)
Sunday: 5 pm to 10:00 pm (Eastern)