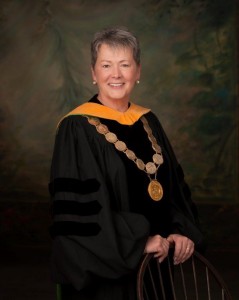 Nancy B. Moody, A.S., B.S., M.S., Ph.D., served 2009- 2017
Nancy Burch Moody received her associate and bachelor's degrees in nursing from Eastern Kentucky University, her masters of science degree in nursing from Texas Woman's University (Houston Campus), and a Doctor of Science in Nursing and subsequently her Ph.D. from the University of Alabama School of Nursing in Birmingham. She practiced nursing for several years in Kentucky and Florida prior to beginning a lifelong career in higher education, initially rising from an instructor through the ranks to Associate Professor and Dean of the School of Professional Studies at Lincoln Memorial University.
Dr. Moody joined the faculty in the School of Nursing at East Tennessee State University in 1994 where she earned tenure and was appointed Chair of the Department of Professional Roles/Mental Health Nursing. During her time at ETSU, Dr. Moody co-authored and secured a grant from The Robert Woods Johnson Foundation to initiate and operate the Tennessee Center for Nursing that conducted research on various issues impacting the nursing workforce in Tennessee.
In 1994, Dr. Moody accepted a position at the University of Tennessee, Knoxville as Associate Professor. Moody returned to LMU as the first female president in January 2001. Moody brought LMU years of financial improvements, successful fundraising, renovations and construction of residence halls and academic buildings, nearly doubled enrollment and added several academic programs including the bachelors and master's degrees in nursing, a physician's assistant program, and doctoral degrees in education and osteopathic medicine, among others.
In 2009, Moody became the first female president at Tusculum where she oversaw the initiation of new academic programs including programs in nursing and criminal justice, secured funding for two new residence halls and the 100,000 square foot state-of-the-art Meen Center for Science and Math. Dr. Moody was also the first female elected to chair both the Tennessee Independent Colleges and Universities Association (TICUA) and as Chair of the Board of Trustees of the Southern Association of Colleges and Schools – Commission on Colleges (SACSCOC). Dr. Moody resigned her position effective fall 2017, was named President Emerita by the Tusculum Board of Trustees and now resides in Knoxville, TN with her husband, Tom .