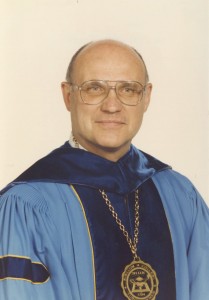 Robert E. Knott, B.S., B.D., M.S., M.A., Ph.D., served 1989-2000
Robert "Bob" Knott began his educational career in 1965 by teaching Advanced Placement classes and math for R. J. Reynolds High School in Winston-Salem, NC.  He received his B.S. degree from Wake Forest College and B.D. from Southeastern Baptist Theological Seminary.  Knott later earned his M.S. in Math from North Carolina State University.  He then taught math and served as Assistant Chaplain at Wake Forest University in Winston-Salem.  While at Wake Forest University, he earned a M.A. in Philosophy and Religion.  He became the Professor of Philosophy and planned major expansions at Mars Hill College in Mars Hill, N.C.  Knott then moved to Salisbury, N.C. and worked for Catawba College in 1982.  There he filled the role of Coordinator and Director of Internal Programs.  Catawba College offered Knott the opportunity to fill numerous positions ranging from admissions, student affairs, fundraising and computer systems.  He reached the rank of Provost and Dean and acting president in 1988.
As President of Tusculum College, Knott quickly took steps to secure the financial stability and support of Tusculum College.  He also worked to improve leadership, enrollment, academic programs, student life and church relations.  Through his efforts, Tusculum College saw an increase in the line of credit, private gifts and grants, and more support from Trustees, faculty and staff.  During his first years at Tusculum College, Tusculum experienced the first increase in enrollment in seven years.  He revived the physical plant, and added the Museum Studies Program with two museums.  He left Tusculum to fill the position of Executive Vice President for Internal Relations and Dean at Mars Hill College.