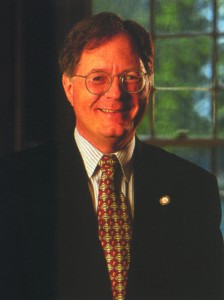 Dolphus E. Henry, B.S., M.S., Ph.D., served 2000- 2007
Dolphus Henry earned his bachelor's degree in Psychology from Roanoke College, his master's degree in Guidance and Psychology from Radford University in Radford, Va., and his Ph.D. in Educational Research and Evaluation from Virginia Polytechnic Institute and State University in Blacksburg, Va.  While working on his Ph.D., Henry worked at Roanoke College in Salem, Va. as Vice President for Admission Services.  He held this position until 1985 when he became the Vice President for Student Affairs at SUNY in Potsdam, N.Y.  In 1990, he became the Vice President for Long-Range Planning and Enrollment Services at Capital University at Columbus, Ohio.  Henry studied at the Institute for Educational Management at Harvard University and worked as a consultant at several colleges.  Prior to arriving at Tusculum College, Henry worked at Mercer University as Vice President for Enrollment Management.  This provided Henry with twenty-seven years of experience with strategic planning, marketing and outcome-based learning at the college level.
Upon arrival at Tusculum College, Henry immediately recognized Tusculum's unique programs, dedicated faculty, and committed students, alumni, Board and friends.  He moved to Tusculum with his wife Judith and daughter Jessica. The potential and conditions at Tusculum College excited Henry about his new position.  During his presidency, Henry doubled the enrollment and added six new buildings to Tusculum's campus.