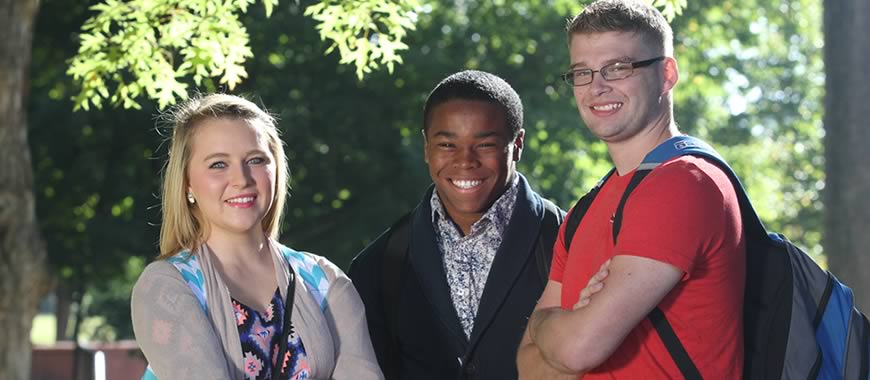 For emergencies, call 911. Then Campus Safety at (423) 636-7318.
---
Our primary mission is to provide for the safety and security of all persons and property within the Tusculum University community.
Welcome to the Department of Campus Safety at Tusculum University. Our office is located in the Niswonger Commons building, room 222. Officers are on-duty 24 hours a day, 7 days a week. Campus Safety officers represent Tusculum University as an enforcer of all University policies and procedures, security, safety, emergency responses in addition to the enforcement of all state and local laws.
Title IX and Tusculum University Equal Opportunity, Harassment, and Non-Discrimination
SERVICES & RESPONSIBILITIES OF CAMPUS SAFETY
VEHICLE & PARKING REGULATIONS
TUSCULUM UNIVERSITY ANNUAL SECURITY REPORT AND ANNUAL FIRE SAFETY REPORT
Tusculum University's Office of Campus Safety reports all known incidents of crime on campus to both the Tennessee Bureau of Investigation and the U.S. Department of Education. Additional Information on University safety policies, procedures, and criminal and safety statistics can be seen in the annual report below, and crime information can be reviewed for Tusculum University and all other accredited institutions at the state and federal levels at the following links:
2020 TU Annual Security Report and Annual Fire Safety Report
Tennessee Crime on Campus Reports: https://www.tn.gov/tbi/article/recent-publications
Federal Crime on Campus Reports: https://ope.ed.gov/campussafety/#/
CRIME LOG
A Daily Crime Log is maintained by the Office of Campus Safety to provide the Tusculum University community with information on security-related incidents that occur on campus or on surrounding off-campus property in a timely manner. The Daily Crime Log will be updated within two business days of the last reported crime. The Log is published monthly on this website, however the most recent report is available in the Campus Safety Office in Niswonger Commons Room 222. However, if there is clear and convincing evidence that the release of such information would jeopardize an ongoing criminal investigation or the safety of an individual, cause a suspect to flee or evade detection, or result in the destruction of evidence, such information may be withheld until that damage is no longer likely to occur from the release of such information.
TENNESSEE STATE SEX OFFENDER REGISTRY
Link: https://www.tn.gov/tbi/general-information/redirect-tennessee-sex-offender-registry-search/sex-offender-registry-search.html Law enforcement information provided by the State of Tennessee concerning registered sex offenders may be obtained from the link above (in addition to information about the offender, this site includes the capability of plotting registered offenders residing within a given distance of an address supplied by the user).