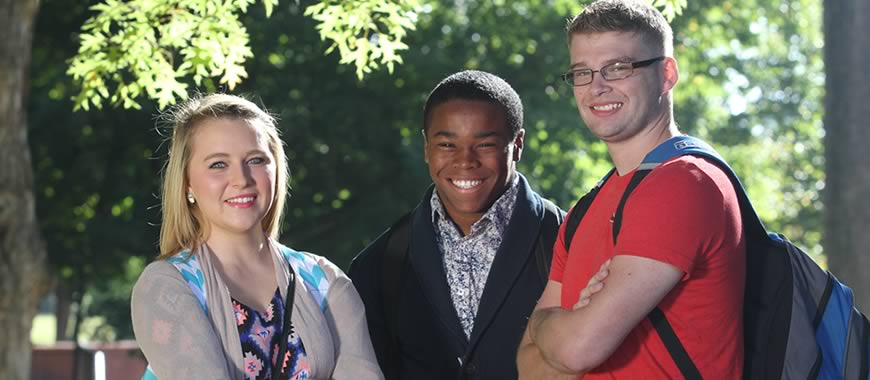 Our primary mission is to provide for the safety and security of all persons and property within the Tusculum College community.
Welcome to the Department of Campus Safety at Tusculum College. Our office is located in the Niswonger Commons building, room 222. Officers are on-duty 24 hours a day, 7 days a week. Campus Safety officers represent Tusculum College as an enforcer of all College policies and procedures, security, safety, emergency responses and enforcement of all state and local laws.
SERVICES & RESPONSIBILITIES OF CAMPUS SAFETY

Escort Service: An escort service is provided 24 hours a day upon request.
Parking and Traffic Control: Campus Safety monitors compliance with all parking and traffic regulations on campus that are listed in the parking manual.
Vehicle Registration: All students, faculty, and staff are required to register their vehicles with Campus Safety and must display a Tusculum College parking hang tag http://web.tusculum.edu/forms/safety/vehicle.php.
Fire and Trouble Alarm Response: Officers respond immediately to locations of all alarms.
Promotion of Crime Prevention: In association with Student Affairs and local law enforcement, Campus Safety offers self-defense classes twice a year to all interested community members.
Reporting of Crimes: Monthly reports are made to the Tennessee Bureau of Investigation regarding crimes that have occurred on campus during the past month. In addition, the College also reports annually to the federal government.

VEHICLE & PARKING REGULATIONS ANNUAL PIONEER SAFETY REPORT AND STATISTICS INFORMATION
Tusculum College's Office of Campus Safety reports all "known" incidents of crime on campus to both the Tennessee Bureau of Investigation and the U.S. Department of Education. Additional Information on College safety policies, procedures, and criminal and safety statistics can be seen in the annual report below, and crime information can be reviewed for Tusculum College and all other accredited institutions at the state and federal levels at the following links:
Annual Security Report and Annual Fire Safety Report
Tennessee Crime on Campus Report Information
Federal Crime on Campus Report Information
CRIME LOG
A Daily Crime Log is maintained by the Office of Campus Safety to provide the Tusculum College community with information on security-related incidents that occur on campus or on surrounding off-campus property in a timely manner. The Daily Crime Log will be updated within two business days of the last reported crime. The Log is published on this website monthly. However, if there is clear and convincing evidence that the release of such information would jeopardize an ongoing criminal investigation or the safety of an individual, cause a suspect to flee or evade detection, or result in the destruction of evidence, such information may be withheld until that damage is no longer likely to occur from the release of such information.
TENNESSEE STATE SEX OFFENDER REGISTRY
Link: http://sor.tbi.tn.gov/SOMainpg.aspx Law enforcement information provided by the State of Tennessee concerning registered sex offenders may be obtained from the link above (in addition to information about the offender, this site includes the capability of plotting registered offenders residing within a given distance of an address supplied by the user).