Richard A Miller, MPP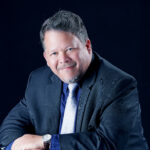 Associate Vice President for Institutional Research & Effectiveness (aka Purveyor of Fine Facts, and Campus Provocateur)
Richard came to Tusculum in 2021.   He is a first-generation college graduate.  His mom is an Alaskan from the remote Native Village of Ilnik (Bristol Bay).  His dad was a self-taught engineer from Pennsylvania's coal mining country.  Of note, Richard can trace some of his family to nearby Flag Pond!  Having parents born during the Depression, he was taught the value of hard work, and the value of education.  Richard walked in family footsteps by working his way through college on commercial fishing boats in Alaska and the Chesapeake Bay.
After graduating from Maryland's National Honors College, St. Mary's College of Maryland, Richard attended the University of Chicago's Harris School of Public Policy, earning an MPP with a focus on economics and domestic policy.   There, his teachers included a number of Nobel Laureates.    The highlight of his graduate studies was a two-time internship (1988 and 1989) in the Executive Office of the President (Office of Management and Budget), serving during the transition terms of Presidents Reagan and Bush.
Richard has worked in the IR/IE field for 25 years, and has helped dozens of institutions through accreditation and planning. He has also served as an accreditation reviewer in the Middle East.  Richard also serves as a referee for the Journal of College Student Retention. He has guest lectured as visiting instructor of American Government, and Political Economy, referring to himself as an "ambidextrous social scientist."   About one third of first year students take his POLS 110 class in the 2022-23 Academic Year.   Richard Holds a Planning Certificate from the Society for College and University Planning's Institute. He lives nearby in Washington County, where he maintains a woodworking shop, making pens and furniture.