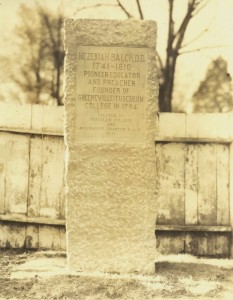 Hezekiah Balch, D.D., served from 1794-1810
Born in 1741, Rev. Balch grew up in Deer Creek, Md.  He entered the College of New Jersey, now Princeton University, in 1758 and graduated in 1762.  He taught in Fauquier County, Va. for several years after graduation.  The New Castle Presbytery licensed Balch to preach on August 11, 1768.  Balch began preaching in York County, Penn. in 1773.  He then went to North Carolina, where his parents were living and worked in the Orange Presbytery.  In either 1782 or 1783, he moved to minister in Greeneville, Tenn. and founded Greeneville College in 1794.  Balch and the Trustees received the charter for Greeneville College on September 3, 1794.  Balch donated a portion of his farm to the College. He presided over Greeneville College until his death in 1810; his presidency lasted sixteen years. During his presidency, the College erected an academic building, collected the initial library of several thousand books and raised about $6,000 for the College.
Balch served area churches with his strong leadership and organization skills. He helped organize and preached at Mt. Bethel and Harmony churches.  He received the degree of D.D. from Williams College in 1808, but ill health kept him from putting the degree to use. At the age of 60, Balch passed away in April 1810.