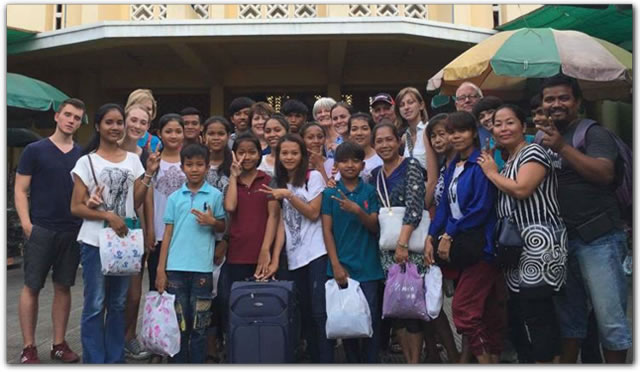 Today dawns hot and humid. After breakfast downstairs at the hotel, we enjoy some time of worship, devotions, and prayer in one of the rooms. It's a great opportunity for team members to reflect on why we are here, discuss our challenges, and brainstorm how to make the best use of our time. We know that we are here for only a little while, but we also know that the repeated visits of team members communicate to these kids that they are valued and valuable.
It's always hard to hear about the kids who used to be part of Asia's Hope who have left for various reasons (some of their own choice, and some because relatives choose to take them back to their home village). However, we balance that against the stories we hear about those same kids who after traveling the wrong road for a while are now on a positive course. One in particular from PE4 is now married, expecting his first child, and working full time in a Christian church doing children's ministry. God promises that His Word will not return empty (Isaiah 55:11) and that children who are trained in the way they should go won't depart from that way when they are older (Proverbs 22:6). We are encouraged to hear these stories about how Asia's Hope is changing children's lives, even the children who leave.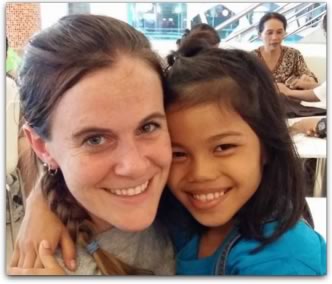 Today's big event is with the Prek Eng (a village on the outskirts of Phnom Penh) home #5 (PE5). Right now they have 18 kids, some who have been there since the home was opened, and some who have arrived in the last year. Little Raksmey is still scrawny, but when we were here in December, he had only been at PE5 for about 2 weeks, was painfully thin and suffered from unexplained fevers. He is now much more active and friendly. Sreyly (pictured left with Julie) is a very sweet girl with an endearing smile who also joined the home at the end of 2016. She and her brother Bunty are adjusting well and enjoying interacting with the team.
We met up with the kids at Central Market for our bi-annual shopping adventure where each child can choose one item up to $10. Most know exactly what they want before they arrive. The men on the team take the boys to the right side of the market for all the boy/man stuff, and we girls head left into girl territory where we negotiate for four purses and lots of pairs of skinny jeans. The women (house mom, cook, and helper) are the last to find something and wrestle the most with their decision about what to choose.
We re-gather after everyone is done and take the short walk to the Sorya Mall. The 6-story mall has been around for a while, but seemed to have dwindled in popularity with the opening of the uber-modern Aeon Mall a couple of years ago. They are now remodeling the whole thing, and most of the building is vacant. We take the escalators all the way to the sixth floor (it gets a couple of degrees hotter with each floor) and go to Master Grill for dinner. It's basically fast food chicken either grilled, fried, or on a bun, with fries and cole slaw. They are so not prepared to deal with a large group – the whole time we are there we don't see any other customers, which is probably a good thing since it takes about an hour for them to fill all of our orders. We decide to warn the manager that we'll be back again tomorrow – hopefully they will be ready!
One of the perks of eating at Master Grill instead of our usual Pizza Company is that there is a video arcade just outside the doors on the same floor. We get 10 tokens ($1) for each kid, which gives lots of opportunities for playing games since all games require only one token. It's loud and hot inside, but still a lot of fun. We finish up early enough for some of the team to visit Alchemy, a trendy new restaurant across the street from the hotel.
JUNE 9, 2017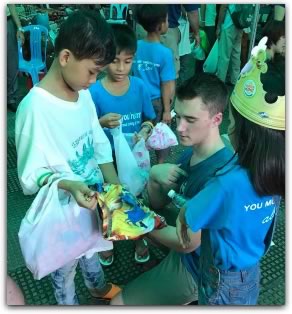 Today dawns even hotter and more humid than yesterday. We enjoy another great breakfast  together at the hotel followed by team devotions and planning for the retreat this weekend. We plan to split the kids by gender and age for the Bible study time, but because we have no idea how many kids are in each age group for the six Asia's Hope homes going on the trip, we have to be pretty flexible in our planning.
After devotions, Dave and Jordan meet up with Bunsam the dorm leader and Scott and Jeanne meet up with the PE5 house parents to shop for the metal wardrobe cabinets Jeanne's school raised money to purchase. Mike stays in his room to work on his message to the retreat, and a few of us enjoy a steamy visit to the Russian Market for some shopping. There are a few food products from this part of the world that are very, very good, nuts and pepper among them. I go for the cashews, and Julie purchases black, red, white, and yellow peppercorns.
Most of the team gathers for lunch at our favorite Mexican restaurant, then we head out for a repeat of yesterday's activities, but this time with the Prek Eng 4 kids. Shopping involves lots more skinny jeans for the girls, t-shirts, shoes and soccer outfits for the boys, and some lengthy hunting and haggling for the women.
Dinner is at the same place, but they are ready for us! They have pre-printed little papers with all of their meal numbers, and as each child orders, they are given a number to keep at their seat. We are ready too, and have all of the kids' names on a piece of paper. We write the meal number next to each kid's name, which also allows us to verify the whole order after all of the kids get through the line. It still takes a while to get everyone's food, but there is no confusion, no counter full of unclaimed meals, and every kid gets what they ordered to eat. Yippee! We might get this whole thing figured out some day.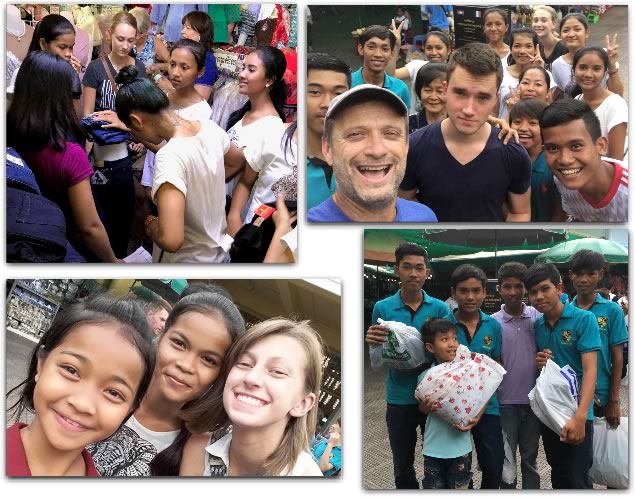 After dinner we make another grip to the arcade and have a great time with the games. A popular one is Dance Central where you follow the dance moves on the screen and earn points for how closely your moves match the virtual dance leader (and even the old folks can play!) Another popular option is the plexiglass boxes where you position the hook over your favorite stuffed animal, drop the hook, then hope it makes it to the drop bin and into your hands before falling back into the pile. The one that keeps the most kids involved for the longest period of time is a game where you drop your token through a slot where it tumbles down onto a pile of tokens on a moving tray, As the tray fills, it drops tokens onto another tray which eventually fills and drops some tokens into the chute as your 'prize.'
All in all it was a great day with lots of laughs, hugs, conversation. Tomorrow morning will be an early start for our trip to Kep and a few days on the South China Sea – so that's all the news for now. Please pray that each child will get something of value from our retreat. The theme is the Name of Jesus with the theme song "What a Beautiful Name" and theme verse of Philippians 2:9-11. The whole team is doing well, adjusting to being 11 hours ahead of US time, and holding up health-wise.
Thank you for your prayers – please continue to keep our team and its work before our Heavenly Father.
With love from all of us,
Trish