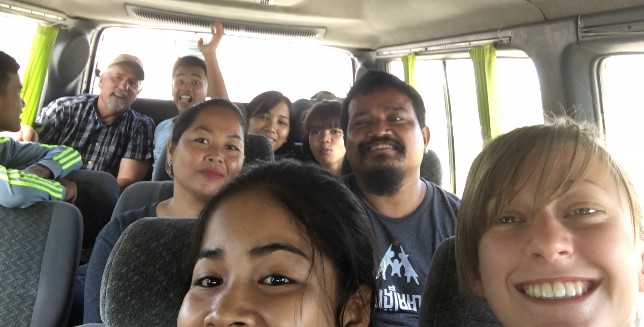 Another journey to Cambodia dawns on June 1st, earlier and longer than usual. This marks my 14th and Mike's 18th trip, but this is a first for leaving home at 2 am with a planned overnight stay enroute. Three of our trips have involved overnight stays (LA, NY, and Korea), but those were all unplanned and due to missed connections. We are always price-conscious when shopping for flights, but with a Tusculum College student in tow, we were even more focused on finding the cheapest itinerary – United Airlines with a 20-hour layover in Japan. We had exceptionally good service on all of our flights, and the last leg was in the most modern plane we have ever flown with bidets in the bathrooms and glass windows that change tinting with the push of a button.
Our team of ten is traveling on five itineraries arriving over several days, and all but two are Cambodia veterans: Mike and Trish H; Emma H. (Tusculum student); Scott, Jeanne, Jordan, and Mackenzie H; Dave D; and Shirley and Julie D.
We are thrilled to have the support of my new College in leading students to Cambodia and are thankful for Emma's determination to go. She is an elementary education student who just completed her freshman year and before this trip had never been on an airplane. If her goal was to get lots of flight experience in one trip, this was the one.
The three of us, Emma, Mike and I, left our home in Tennessee at 2 for a 6 am flight out of Knoxville bound for Newark. From there we flew to Narita Japan. We arrived early afternoon, checked into a nearby hotel, took the 1 1/2 hour bus ride into Tokyo for dinner, and enjoyed seeing a bit of the city. Things I didn't know before this trip: Japanese drive on the left side of the road, they value uniformity in appearance (clothing stores are a sea of white, gray and black), and less and less are opting for marriage and family.
We had a good night's rest and were back on the shuttle to the airport at 8 am. We arrived in Phnom. Penh mid afternoon June 3rd. We have accumulated a few Cambodian cell phones and for $18 are able to get two phones up and running with enough credit to last the whole trip. With working phones, we were able to call some of the dorm kids (Sophat and Vireak) to meet us for dinner to catch up. The three of us are tired, but Emma's struggling mightily and dozes off throughout dinner.
June 4-5, 2017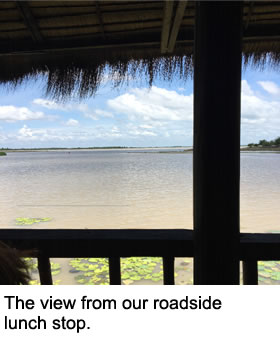 We are greeted at the hotel in the morning by house parents Ravy and Rey, along with five Asia's Hope university students who will join us on a trip to Siem Reap. At Tusculum, I had advertised that the trip included a visit to Angkor Wat, and even though we only have one student, we need to follow through. We figured it would be more fun for her to have some university students along, so we booked some extra rooms, reserved a van, and headed out with a group of 10 (plus a driver). This is Election Day here, so most of the group voted early, as evidenced by a black index finger. Cambodia has a rudimentary yet effective means of ensuring that each person votes only once. After you vote, you dip your index finger in a pot of ink, and it takes about 2 weeks to wearoff. There is no early voting or absentee ballots. The election is for the village chiefs, a prelude to next year's major election for prime minister. The current prime minister vows that he will not lose next year, and that if he is not re-elected, there will be a civil war. Early results of today's election show a slight majority supporting the prime minister's party, but whether it's by choice or fear, nobody knows.
We have an uneventful 6 hour trip to Siem Reap, check into the hotel, then visit the market and a restaurant that serves both Khmer and French food. After dinner we visit the famous Night Market where lots of people aregetting henna 'tattoos', enjoying pedicures by fish that eat the dead skin off your feet, shopping, eating at open-air restaurants, and buying ice cream rolls (Cambodia version of marble slab ice cream).
We start the morning with a lovely breakfast at the hotel, then we are off to Ta Prom (the temple where Lara Croft, Tomb Raider, was filmed). Many sections of the temple complex are blocked offas stone masons work to restore major portions of the structure. The stonework is nearly 1,000 years old, so it's pretty amazing it has lasted this long. Our next stop is Angkor Wat, a much more impressive and famous structure than To Prom, but also much hotter with no trees to provide a break from the sun. After about 4 hours of walking, climbing, and taking photos, we are ready for lunch and some air conditioning.
One of the best parts of this little excursion has been talking to the kids to hear about their progress and plans. We are inspired by the strength of their faith and how much they seek God's guidance for their future plans. We are also encouraged to see the fruit of Bunsam's work (dorm leader) and to hear from the kids how much his passion and discipling are impacting them.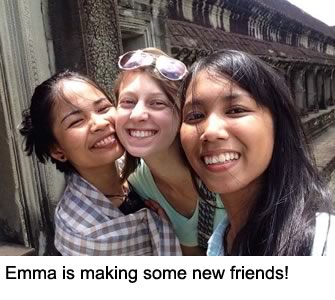 The 6-hour van ride seemed a bit longer on the way back. We are glad to be settled back in to DoubleLeaf Hotel for a few days. Thanks to all of you who are praying for our team and for all the Cambodians whose lives will intersect with ours during this trip.
With love from the team,
Trish