VITA is Volunteer Income Tax Assistance 
The Tusculum University Volunteer Income Tax Assistance program is an Internal Revenue Service grant program that offers free tax preparation to qualifying taxpayers in East Tennessee. All volunteers for our program are trained and certified by the IRS.
Tusculum has participated in the VITA program since the 2016-17 academic year. The university's VITA program is intended to assist a variety of taxpayers who need help in filing their own tax returns.
Who might qualify?
People who generally earn less than $60,000 a year
Anyone older than 65
People with disabilities
Limited-English-speaking taxpayers
Urban and rural residents
Faculty, staff and students of Tusculum
Participants in the program will be assisted by well-trained, IRS-certified student volunteers from the university. These volunteers learn valuable skills in tax preparation, professionalism and interviewing while also serving the community.
Dr. Harold Branstrator, an associate professor of management at Tusculum and a former IRS revenue agent and current IRS enrolled agent, oversees the VITA Program at the university. Dr. Branstrator's program equips students to prepare returns for East Tennessee residents and be career-ready professionals.
The VITA Program serves customers at the following locations:
Meen Center Rooms 001 and 005 on Tusculum's Greeneville campus
Westminster Presbyterian Church at 2343 Knob Creek Road in Johnson City
Washington County Library at 200 E. Sabine Drive in Jonesborough
Reserve your appointment time via our online registration form.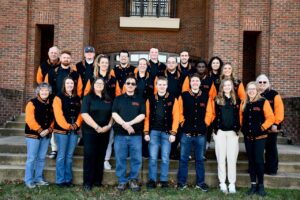 Student and community volunteers for the VITA program.