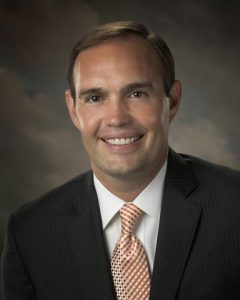 Dr. James L. Hurley was the 28th President of Tusculum University. Building upon its 225-year history of tradition and educational excellence, Tusculum University under Dr. Hurley's leadership invested in new opportunities centered on program development, academic distinction and student success.
Dr. Hurley implemented strategic transformative changes. These include the conversion from college to university status and creation  of  the  College  of  Health Sciences; the Niswonger College of Optometry; and the College of Science, Technology and  Math.
Prior to Tusculum, Dr. Hurley served as President at his alma mater, the University of Pikeville  (UPIKE), and as Chief Operating Officer at Lincoln Memorial University (LMU). During his tenure at UPIKE, the university accomplished the largest fundraising campaign in its 125-year history, securing nearly $65 million to build new academic buildings, to renovate existing facilities and to develop new programs of opportunity. Under his leadership, the university achieved six consecutive enrollment gains and increased retention and graduation rates. He also founded the Kentucky College of Optometry.
Dr. Hurley held a doctoral degree in leadership and finance from Morehead State University, a master's of science from Indiana University and a bachelor's degree from U-PIKE.