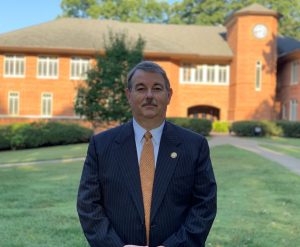 Dr. Greg Nelson, a successful longtime research and development leader at a Fortune 500 company who most recently served with distinction on the Tusculum University Board of Trustees, is the higher education institution's acting president.
A trustee starting in 2014, Dr. Nelson served as a member of the Enrollment Management Committee and chairman of the Academic Affairs Committee during his five years on the board. He was chairman from 2017 until the board appointed him Tusculum's acting president Aug. 20, 2019.
During his time as chairman, Tusculum converted from a college to a university so it could create the ideal educational structure to meet students' needs. The university also began establishing the Niswonger College of Optometry, which has attained Stage 2 in the accreditation process with the Accreditation Council on Optometric Education. In addition, university's College of Business attained accreditation with the Accreditation Council for Business Schools and Programs.
As a businessman, Dr. Nelson steadily rose through the ranks of Eastman Chemical Company in Kingsport, Tennessee, Dr. Nelson retired as senior vice president and chief technology officer and a member of the executive team. Earlier positions included vice president of corporate technology, vice president of polymers technology, business unit manager, market manager, manager of special projects and laboratory supervisor. He began his Eastman career as advanced senior research chemist.
Dr. Nelson holds a Bachelor of Science in chemistry, computer science and mathematics from the University of Alabama and a doctorate in analytical chemistry from Emory University. He also graduated from the Harvard University Advanced Management Program and participated in a program on transformational leadership with Darden Executive Education at the University of Virginia.
He has served as a board member for the Tennessee State Collaborative On Reforming Education, on the advisory board of the STEM Path to the MBA at the University of Alabama and as board president for the United Way of Greater Kingsport. He is an active member of the King Street Church of Christ in Beaufort, S.C.
Dr. Nelson and his wife Judy have been married 36 years and have three children. His hobbies include skiing, golf, astrophotography, and travel.