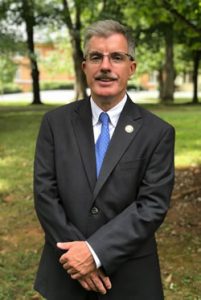 Director of Communications
Email: jwozniak@tusculum.edu

Direct Line: 423-636-0552
Campus Phone: 5230
Campus Mail: P.O. Box 5051
Office: Virginia Hall 207
Department: Office of Communications
Campus or Site Location: Greeneville

---
Jim Wozniak joined the Tusculum family in September after eight years with Wellmont Health System, where he served most recently as media relations director and helped communicate the organization's merger with Mountain States Health Alliance.
As communications director, he will lead Tusculum's media relations efforts, be responsible for internal and external communications and lead public affairs, publications and special events using an integrated approach to information dissemination.
He has a bachelor's degree in journalism from Northern Illinois University. In his spare time, he serves as president of the Board of Trustees at Rocky Mount State Historic Site.