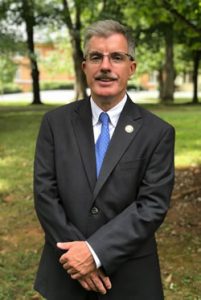 Director of Communications and Marketing
Email: jwozniak@tusculum.edu

Direct Line: 423-636-0552
Campus Phone: 5230
Campus Mail: P.O. Box 5051
Office: Virginia Hall 201
Department: Office of Communications
Campus or Site Location: Greeneville

---
Jim Wozniak joined the Tusculum family in 2018 as director of communications after eight years with Wellmont Health System, where he served most recently as media relations director. In 2021, he was promoted to director of communications and marketing.
Among his duties are:
Develop, implement and direct the strategic priorities for communications and marketing initiatives through an integrated approach
Oversee production and dissemination of all internal and external communications, advertising and video as well as content on all university's social media channels and Tusculum's website
Partner with stakeholders throughout the university on communications and marketing initiatives
Protect and promote the university's brand and reputation and advance the institution's mission and goals through a comprehensive internal and external communications and marketing strategy
Analyze the effectiveness of all communications and marketing materials and campaigns and modify, as needed, to enhance results
Supervise employees in the Office of Communications and Marketing
Counsel the president and other leaders on communications and marketing strategies
Oversee the university's interaction with media and served as spokesman
Write news releases and the university's internal newsletter
Oversee the production of the Tusculum magazine.
Apprise university leaders about media coverage of developments in education
Serve on multiple university committees
Wozniak has a bachelor's degree in journalism from Northern Illinois University. In his spare time, he serves as past president of the Board of Trustees at Rocky Mount State Historic Site.