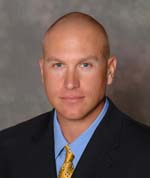 Head Baseball Coach
Email: bsteele@tusculum.edu

Direct Line: 423-636-7300 ext. 5615
Campus Phone: Ext. 5615
Campus Mail: P.O. Box 5055
Office: Rankin Hall
Department: Athletics
Campus or Site Location: Greeneville

---
Long-time Tusculum assistant baseball coach and recruiting coordinator Brandon Steele has been named the new head coach of the Pioneers announced Doug Jones, vice president of student success and athletics.  Steele succeeds Jones, who guided the program for the last 21 seasons.
Steele becomes the 25th baseball coach in program history, but only the second Pioneer skipper since Tusculum became a NCAA Division II member in 1998.
Steele served on Jones' staff for 15 successful campaigns where the Pioneers posted a remarkable 545-271-1 overall record which included five South Atlantic Conference championships, four SAC Tournament titles and six trips to the NCAA Division II Tournament.
After arriving on the Tusculum campus in fall 2003, the Pioneers recorded 14 straight winning seasons while averaging 36 wins per year including five campaigns with 40 or more victories and five times ending the season with a national ranking.
"The search committee went through a thorough process and interviewed several quality candidates.  Brandon did an excellent job of sharing his vision for the program and pointing out necessary changes that need to be made," said Jones.  "Brandon has been a huge part of the success that the program has had over the years and is a proven recruiter.  I fully expect Brandon to take the program to new heights."
Steele, a native of London, Ontario, Canada, came to Tusculum after serving as an assistant coach at Macomb Community College in Warren, Michigan and Roseville (Mich.) High School in 2003.
Steele's coaching experience also extends to summer baseball. He served as associate head coach for the Wisconsin Woodchucks of the prestigious Northwoods League in 2007 and 2008. Steele's 2008 squad set numerous league and franchise records including tying the franchise mark for wins with 41. His 2008 Woodchucks also made their first playoff appearance since 2003. For his efforts, Steele was named the Northwoods League "Coach of The Year" in 2008.  He was promoted Field Manager of the Woodchucks in 2009.
During the summers of 2005 and 2006 Steele served as manager of the Medicine Hat Mavericks. During his two seasons with the Mavericks, Steele's teams rewrote the league's offensive record books while reaching the playoffs both seasons.
In 2004 Steele was the Assistant Field manager of the London Majors of the Intercounty Baseball League. While with London, Steele helped lead the Majors to the league championship for the first time in 25 years. Steele also has previous coaching experience with the Novi Expos in Novi, Michigan, and the University of Western Ontario in London.
His previous playing experience includes time with the London Majors of the Semi-Pro Intercounty Baseball League from 1997-2003. For his 2001 performance, Steele was named a First Team All-Star. That season he batted .387 with 12 doubles, four home runs and 25 RBI. In college, he played at Macomb Community College where he hit .385 as a freshman as his team advanced to the NJCAA World Series.
Steele has coached over 50 players who have signed professional contracts including 30 with the Pioneers.
Steele has served on the baseball camp staffs at Duke, Tennessee, Kentucky, and Eastern Michigan. He is also a member of the American Baseball Coaches Association.
He earned an Associate of Arts degree in general studies from Macomb College.  Steele also holds a Bachelor of Arts degree in physical education, health and wellness and a Masters of Arts degree in human resource management, both from Tusculum.
Steele is married to the former Mary Kay Benson of Monroe, Michigan and they are the parents of one daughter, Samantha.