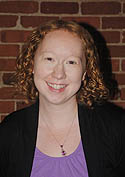 Associate Professor Psychology
Email: kjsmith@tusculum.edu

Direct Line: 423-636-7440
Campus Phone: Ext. 5440
Campus Mail: P.O. 5023
Office: Meen Center 108B
Department: College of Science, Technology, & Mathematics
Campus or Site Location: Greeneville

---
Dr. Katherine Smith comes to Tusculum from East Tennessee State University where she served as an adjunct faculty member. She graduated from the University of Kentucky in 2009 with a Ph.D. in experimental psychology with a concentration in behavioral neuroscience and psychopharmacology; she also got her Master of Science in experimental psychology in 2006 from University of Kentucky. In 2004 she graduated Summa Cum Laude with a Bachelor of Science in psychology with a minor in biology from East Tennessee State University.
At East Tennessee State University Smith taught undergraduate courses in Psychology including Behavioral Neuroscience, Introduction to Personality, and Introduction to Psychology
Smith has been published in several journals including, Neurochemical Research, Neuroscience and Neuroscience Letters.
Ph.D. in Experimental Psychology from the University of Kentucky,
M.S. in Experimental Psychology from the University of Kentucky,
B.S. in Psychology from East Tennessee State University