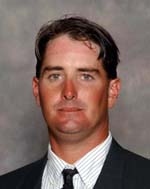 Associate Head Baseball Coach
Email: tireland@tusculum.edu

Direct Line: 423-636-7300 ext. 5699
Campus Phone: Ext. 5699
Campus Mail: P.O. Box 5055
Office: Rankin Hall 304
Department: Athletics
Campus or Site Location: Greeneville

---
Former Tusculum College standout Todd Ireland is the assistant baseball coaching staff at his alma mater.  He served nine years as an assistant and was promoted to the post of Assistant Head Coach in December 2008.
Coach Ireland works with the Pioneer pitchers and catchers as well as serving as head coach of the TC junior varsity squad. He also serves as the field maintenance coordinator for Pioneer Park.
The 1998 Tusculum graduate returned to Greeneville before the 2002 season, after serving as an administrative assistant at NCAA Division I Eastern Kentucky University.
Ireland served on the TC staff from 1998-2000 where he helped develop the junior varsity program as well as serving as pitching coach.
Ireland was a standout third baseman and catcher on the Tusculum diamond for two years. From 1996-97, the Burlington, Ontario, Canada native posted a .322 batting average and 35 RBI. His 16 career sacrifice hits are third best in school history. He also holds the school single-game record scoring five runs against King College in 1996. The 13 bunts he laid down in 1997 are still the most ever in a Tusculum single-season. In his senior season, he garnered All-Tennessee-Virginia Athletic Conference recognition.
Coach Ireland also excelled in the classroom where he was a member of the Dean's List and the Charles Oliver Gray honors list for four semesters.
Ireland originally came to the Greeneville campus from Grand Rapids Community College where he was a two-time All-State honoree.
An exceptional athlete, his prep experience included being named to the All-Provincial team at M.M. Robinson High School. He was tabbed to the Canadian Championship All-Tournament team as a catcher. He also shined on the frozen field as he was drafted in 1990 by Sudbury Wolves in junior hockey.
Ireland is a member of the American Baseball Coaches Association.