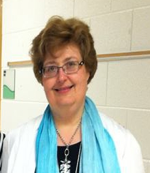 Associate Professor of Education
Email: prochelle@tusculum.edu

Direct Line: 423-636-7421
Campus Phone: Ext. 5421
Campus Mail: P.O. Box 5025
Office: Cog 97-A
Department: College of Education
Campus or Site Location: Greeneville

---
Peggy A. Goodson-Rochelle received a Bachelor of Science degree in both Elementary Education K-8 and Special Education K-12 from the University of Tennessee. She has a Masters Degree in Special Education with a concentration in Gifted Education from East Tennessee State University.  She also holds an Ed.D in Educational Leadership and Policy Analysis with a concentration in Teacher Leadership from East Tennessee State University. Dr. Rochelle has over 30 years of public school teaching experience with 26 of those being in Kingsport City Schools.
Dr. Rochelle is a National Board Certified Teacher, McGlothlin Award for Teaching Excellence Finalist, and Regional Teacher of the Year. Prior to coming to Tusculum, Dr. Rochelle taught as an adjunct instructor for several years at East Tennessee State University. She developed and implemented summer programs for students and conducted workshops for classroom teachers. Dr. Rochelle is the 2014 and 2017 recipient of the Tusculum Graduate and Professional Studies Teaching Excellence and Campus Leadership Award.
Dr. Rochelle is an advocate for students with special needs and serves on the Board of Directors for Small Miracles Therapeutic Equestrian Center. She and her husband John are members of Celebration Church in Blountville. They live in Gray with their dogs Lucy, Jackson and Savannah and enjoy visits from their daughter, Allie, who lives in Bristol.  Dr. Rochelle loves to cook, sew, and read.
Dr. Rochelle teaches Math and Science Teaching Methods classes at both the undergraduate and graduate level.  She teaches Assessment and Grading, and Special Education Courses at the graduate level.
Professional Organizations:
National Association of Special Education Teachers (NASET)
National Science Teachers Association
National Council of Supervisors of Mathematics
Learning Forward
ASCD
Council for Exceptional Children
National Educational Association (Lifetime member)