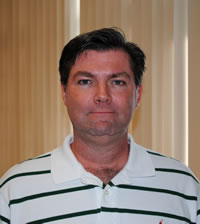 Chair of Social Sciences
Professor of Political Science
Email: tgoodale@tusculum.edu

Direct Line: 423-636-7300 ext. 5660
Campus Phone: Ext. 5660
Campus Mail: P.O. Box 5089
Office: Garland Library 128
Department: College of Civic and Liberal Arts
Campus or Site Location: Greeneville

---
Dr. Troy Goodale joined Tusculum University in 2007 and serves as associate professor of political science and the department chair for political science. He is the pre-law advisor, and also the faculty sponsor of the Tusculum University chapter of Alpha Chi National Honor Society. He has served as faculty mentor to several political science majors participating in the Tusculum University Honors program.
A native of Oklahoma, he was raised in the Washington, D.C. metropolitan area before moving to East Tennessee during his eighth grade school year. Living in the nation's capitol began his interest in politics and government. He received his Bachelor of Arts degree from the University of Tennessee in political science, with a minor in cultural studies that focused on Asian culture. He earned his master's degree and doctorate in political science, also from the University of Tennessee.
Dr. Goodale's dissertation is in the American politics sub-field, examining legislative term limits in state governments. He has published a book on legislative term limits and has run for public office on two occasions. In addition, he has worked in various political organizations and campaigns.
Ph.D., Political Science, University of Tennessee at Knoxville
M.A., Political Science, University of Tennessee at Knoxville
B.A., Political Science, University of Tennessee at Knoxville