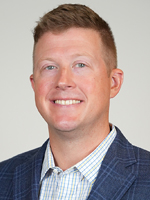 Director of Athletics
Email: jealy@tusculum.edu

Direct Line: (423)636-7322 Ext. 5322
Campus Phone: 5322
Campus Mail: P.O. 5090
Office:
Department: Athletics
Campus or Site Location: Greeneville

---
Tusculum University alumnus and former staff member Josh Ealy was named Director of Athletics in April 2023.
Ealy oversees the day-to-day operations of the Tusculum athletic department and the 23 sports the University sponsors. He serves on the University's cabinet and the South Atlantic Conference Athletic Directors Leadership Committee.
Ealy returned to his alma mater after serving as the Associate Athletic Director for External Operations at NCAA Division I Charleston Southern University. While at CSU, he was responsible for facilitating development operations for the Buc Club and corporate sponsorships while also being responsible for management and advancement of ticket operations, branding, promotions and game experience.
Ealy previously served as TU's Director of Athletic Development from 2018-2020 and then Assistant Athletic Director from 2020-2022. He was responsible for the athletic department's business management while also coordinating game-day operations and fundraising efforts. The Greeneville, Tennessee native led the Pioneer Club, which works to raise funds for the athletic department through connections with parents, alumni, staff and other supporters of the University.
One of his goals for the athletic department is continue enhancing the student-athlete experience from the time a student-athlete steps on campus until they step across the stage for graduation.
Ealy has served on numerous committees including the Tusculum's COVID-19 Taskforce, Homecoming Planning Committee, Greene County Sports Council and was on the board of directors for the Greene County United Way.
Ealy has also worked at both the NCAA Division I and II levels of intercollegiate athletics. From 2009-2012, he served as an assistant basketball coach at Carson-Newman University where his responsibilities included alumni relations, fundraising, and student-athlete recruitment.
He was on the men's basketball coaching staff at Appalachian State University from 2007-2009. He started as a graduate assistant before being promoted to full-time assistant coach in his second season.
Ealy was a student-athlete on the Tusculum basketball program from 2004-2007. In his sophomore campaign, the Pioneers posted an 18-11 record to capture the South Atlantic Conference Tournament title and advanced to the NCAA Tournament.
Ealy earned both his undergraduate and graduate degrees from Tusculum University. In 2007, he received his Bachelor's Degree in sport management and Master of Arts in organizational training & performance management in 2022.
He is a member of the National Collegiate Athletic Directors Association (NACDA), Collegiate Athletic Business Management Association (CABMA) and the National Association of Athletic Development Directors (NAADD).
Ealy is married to the former Carrie Miller, a 2006 Tusculum graduate and former Pioneer volleyball student-athlete (2002-2004). They are the proud parents of son Jaxton and daughter Caroline.