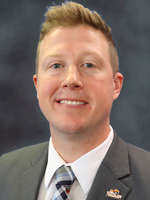 Director of Athletic Development
Email: jealy@tusculum.edu

Direct Line: 423-636-7331
Campus Phone: Ext. 5331
Campus Mail: P.O. 5090
Office: Rankin 105
Department: Athletics
Campus or Site Location: Greeneville

---
Josh Ealy was named the Director of Athletic Development at Tusculum University on Nov. 5, 2018.
Ealy will be responsible for leading the fundraising efforts for the TU athletic department, including major gifts, annual fund gifts, and gifts to capital projects.
He also heads the Pioneer Club, which works to raise funds for the athletic department through connections with parents, alumni, staff and other supporters of the University.
Ealy, a 2007 Tusculum graduate and former Pioneer men's basketball student-athlete, has an extensive background in the business sector in both sales and accounting.
He returns to the Greeneville campus after serving with Cintas of Knoxville as a sales representative. For three years he was a business account executive with Spectrum Business in Morristown and two years with Verizon Wireless as a sales representative.
Ealy has also worked at both the NCAA Division I and II levels of intercollegiate athletics. From 2009-2012, he served as an assistant basketball coach at Carson-Newman University where his responsibilities included alumni relations, fundraising, and student-athlete recruitment.
He also served men's basketball staff at Appalachian State University from 2007-2009. He started as a graduate assistant before being promoted to full-time assistant coach in his second season. During his tenure with the Mountaineers, Ealy served as the team's academic liaison, coordinated film exchange and video editing and oversaw the expansion and development of Appalachian State's summer camp program in addition to his on-court duties.
Ealy was a member of the Tusculum basketball program from 2004-2007. In his sophomore campaign, the Pioneers posted an 18-11 record to capture the South Atlantic Conference Tournament title and advanced to the NCAA Tournament.
Prior to playing for Tusculum, Ealy was a standout at Greeneville High School. He was also an assistant coach for the Greene Devils during the 2006-07 season, which was his final year at Tusculum. Greeneville finished that season ranked in the top five in the state.
Ealy is married to the former Carrie Miller, a 2006 Tusculum graduate and former volleyball student-athlete (2002-2004). They are the proud parents of son Jaxton and daughter Caroline.