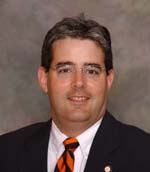 Assistant Athletic Director for Communications
Email: ddonnelly@tusculum.edu

Direct Line: 423-636-7326
Campus Phone: Ext. 5326
Campus Mail: P.O. Box 5054
Office: Rankin Hall 200
Department: Athletics
Campus or Site Location: Greeneville

---
Dom Donnelly is Assistant Athletic Director for Media Relations at Tusculum University. The Louisville, Ky. native is responsible for all sports information needs of Tusculum's 14 intercollegiate sports. Donnelly has over 15 years sports information experience at both NCAA Division I and II levels.
The Athletic Media Relations (AMR) office is in charge of all aspects of publicity for the Tusculum Athletics Department.  AMR oversees all athletic department publications, maintaining the athletic web site (www.tusculumpioneers.com) and helps coordinate staffing for game day operations for home athletic contests.
He is primarily responsible for the sports of cross country, football, golf, men's basketball, tennis and volleyball.
He joined the Pioneer staff in June 1999 after serving one year as Assistant Sports Information Director at Elon University. While at the Elon, N.C. school, Donnelly served as the primary media contact for the Phoenix' seven women's sports, while also assisting with all 14 NCAA Division I sports offered.
From 1997-99, Donnelly oversaw the sports information operation at the University of North Carolina at Pembroke. Prior to that, he served as SID at South Atlantic Conference member Lenoir-Rhyne University for two seasons. While at L-R, Donnelly also served as media director for the NCHSAA Western Regional Basketball Tournament.
Donnelly began his sports information career at Georgia College & State University where he served as Assistant SID and men's golf coach. While at the Milledgeville, Ga. school, he led the Bobcats to an 88-44 record and finished third in the Peach Belt Conference, the best league finish in the program's history to that date. He also served as media/tournament director of the NCAA Division II District Tournament in 1992.
Donnelly, a Western Kentucky University graduate, has worked several national events including the NCAA II women's basketball regionals and the 2001 NCAA II Women's Golf National Championship. In 2002, he served as media director of the inaugural NCAA II South Regional Women's Golf Championship, which was hosted by Tusculum.
He is a member of the College Sports Information Directors of America (CoSIDA), the National Collegiate Baseball Writers Association (NCBWA) and the ESPN The Magazine Academic All-America® Selection Committee. Donnelly served as chairman of the South Atlantic Conference Sports Information Directors Committee from 2005-07. He is also in his fifth year serving as Southeast Region Chair for the Gene Upshaw Award, which recognizes the NCAA Division II Football Lineman of the Year. He is entering his fifth year as chairman of the Tusculum Sports Hall of Fame Committee.
In 2009, Donnelly was the recipient of the Tusculum Sports Benefactor Award.