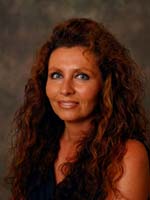 Associate Athletic Director and Compliance Officer
Email: ddavis@tusculum.edu

Direct Line: 423-636-7323 Ext. 2
Campus Phone: Ext. 5247
Campus Mail: P.O. Box 5090
Office: Rankin Hall 106
Department: Athletics
Campus or Site Location: Greeneville

---
Deborah Davis is the Tusculum University Athletic staff. Davis, a native of Milan, Tenn., has served the Pioneer athletics department in a variety of roles. Davis holds the titles of Associate Athletic Director, Senior Woman Administrator and oversees NCAA Compliance for Tusculum's 14 intercollegiate sports.
As Associate Athletic Director, Davis is responsible for the day-to-day operation of the athletics department. Davis is entering her seventh year as Tusculum's NCAA Compliance Officer. She is responsible for tracking student-athlete eligibility and Tusculum's continued compliance with NCAA rules and regulations.
She is serving as chair of the South Atlantic Conference Compliance Officers Committee and the SAC Senior Woman Administrators committee.
She holds undergraduate and graduate degrees from Tusculum University. In 1997, she earned her Bachelor of Science degree in Organizational Management, graduating Magna Cum Laude. Davis followed that in 1999 with her Master's degree in the same field from Tusculum.
She is married to Mr. Scott Davis and they are the parents of two daughters, Kandice and Amber and have two grandsons, Ty and Trey.