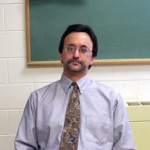 Professor of Economics
Email: abos@tusculum.edu

Direct Line: 423-636-0553
Campus Phone: 5282
Campus Mail: P.O. 5102
Office: COG 210
Department: College of Business
Campus or Site Location: Greeneville

---
I am an Economics professor in the College of Business. I got my Ph.D. at the University of Tennessee at Knoxville and I was a post-doctoral fellow in Health Economics at the Johns Hopkins Bloomberg School of Public Health in Baltimore, Maryland. I have a research interest in health economics, especially concerning the relationship between the social-economic circumstances and the health status of the elderly in my home country — Brazil.
I combine a sophisticated and advanced knowledge on my field with an ability to demonstrate and explain concepts at the principles level. I provide a unique perspective based on my international background, personal experiences and research. In all my years at Tusculum, I have always been able to maintain a good rapport with students and I enjoy teaching at our university.
At a personal level, I am from Porto Alegre where, of course, I cheer for the International soccer club; I have two daughters, both on graduate school and I take partial credit for their smarts; finally, I can play the accordion, but you shouldn't hear me.
Professional Organizations:
American Economics Association, International Health Economics Association, American Health Economics Association
---
Ph.D., Economics, University of Tennessee
M.S., Agricultural Economics, Federal University of Rio Grande do Sul, Brazil
B.S., Agriculture, Federal University of Rio Grande do Sul, Brazil