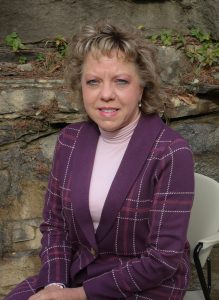 Vice President of Finance & Chief Financial Officer
Email: bbare@tusculum.edu

Direct Line: 423-636-7215
Campus Phone: 5215
Campus Mail: P.O. 5100
Office: McCormick
Department: Finance
Campus or Site Location: Greeneville

---
Benita, a certified public accountant, is an expert in financial matters and will be an asset to the university as we strengthen our financial position.
Benita came to Tusculum University from the Appalachian School of Law in Grundy, Virginia, where she served as chief operating officer since August, but she is best known for her 20 years of stellar service at Emory & Henry College. Like us, Emory & Henry is a faith-based institution.
She has a strong connection to Tusculum. Benita's daughter, Courtney Bare Miller, earned her bachelor's and master's degrees in education from Tusculum. Courtney now teaches fifth grade in Morristown, and Benita had been eyeing opportunities to move closer to her and her two grandchildren. Benita has another daughter, Caitlin Bare, who is also a CPA and works for Dominion Power in Richmond, Virginia.
From 2000 to 2020, Benita held positions of increasing responsibility at Emory & Henry, including associate vice president for business and finance for eight years. During that period, she also accepted additional duties as interim chief financial officer for 1 ½ years. She began her service at the college as controller for five years before rising to finance director for another five years. Her final role was senior program administrator and business adviser to the president.
At Emory & Henry and the law school, she was an adjunct professor, teaching courses such as principles of accounting, auditing, individual tax, managerial accounting, business ethics and accounting, finance and auditing for lawyers.
Benita was also a financial reviewer for on-site and off-site committees that were involved in applications for reaffirmation of accreditation with the Southern Association of Colleges and Schools Commission on Colleges.
Earlier in her career, she handled tax matters for The Pittston Company, was an auditor for the Commonwealth of Virginia and was an accountant for accounting firms.