Collecting Memories
Friday, March 9, 2018

As I brushed my teeth this morning to the sound of the Basilica bells, I pondered over the time we had spent here in Costa Rica. I wondered how I could paint an accurate picture to those who have not experienced this. Then I realized that I cannot. But I am going to try.
Where do I start?
This trip has been the most unique, wonderful thing I have ever experienced. We have had our ups and downs in our group. We learned the importance of alway being adaptable and going with the flow. We learned to play dodge ball with only one ball. And we learned how one week can change lives.
This was our fifth day at the school. The ride up the mountain to the school will never grow old. It does not matter if the weather is sunny, foggy, or rainy. All of them are beautiful in their own way. We have been stopped more than once by cows crossing the road or just wandering around the road. Horses, cows, and dogs freely roam the side of the street, basking in the Costa Rican sun or grazing on the green grass. Farmers wave at us as we drive past their cabbage and potato farms positioned in the sun on the rolling green hills.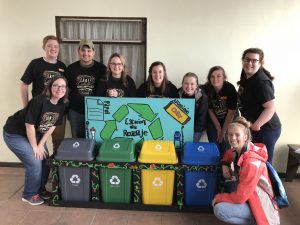 We walked into the school a little stressed, but fully focused on the projects we had to finish in such a short amount of time. As soon as we walked though the gate into the small play area the kindergartens all got excited in their little room and waved and giggled; the older kids grinned and nodded, some snuck in a small wave, and the girls smiled. All of their countenances just suddenly lit up. I will never forget that tiny moment of excitement the children presented to us right then.
As soon as recess started, the boys rushed out to set up little cones so we could have our daily epic dodge ball game in the small courtyard. The boys, and a few of the brave girls, would give one of us the ball and point to the kid on the other team that they wanted out. More often than not we were thrilled to oblige. The children who did not participate in this epic dodge ball game played with little toys, jump roped, or played tug of war. Those little 1st-3rd graders are better at jump roping then I will ever be.
Tears were definitely shed while saying goodbye to the children of San Martin school. The principal sincerely thanked us for our time and participation, which did not help the tears stop. There is not a single one of us who can say that we were not impacted by these children.
My heart aches thinking about leaving them behind. It aches about not going to that small school and loving on the kids whom I cannot even fully comprehend. I know it has only been a week, but somehow I cannot even imagine those children not being a part of my life anymore.
All of us have left pieces of our hearts at a little school in San Martin, and the rest of our hearts will never be the same.
After our departure from the school, we drove down the bumpy road back to home base to grab lunch, then head off to San Jose. We walked quite a way to the bus stop. I successfully asked a man in Spanish where the direct bus was! However… He answered in English, so I probably did not actually ask him correctly. But I like to think that I had a successful encounter. 😉
The bus ride to San Jose was surprisingly comfortable and nice. The difference between Cartago, where we stayed, and San Jose was astounding. More shops, big stores, so many people, and so much traffic. Many people tried to talk or sell stuff through the bus window from the middle of the road.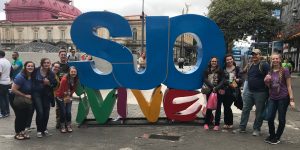 After a long walk and a fair amount of healthy confusion, we found our way to the market. The market was a skinny, long warehouse type thing stuffed full of things no one knows they need until they see it there. Some of us made it though the abysses quicker than others. (*Cough cough* Dr. Cooper and Courtney.) Those of us who made it through quickly got to experience the phenomenon we have named "Cat or Shirt?" This name came about because we were talking to, well listening to, a lady who wore a cat. With nothing underneath. Actually, according to her, it was an angel in the form of a dog who was pretending to be a cat. Confusing, I know. Her dog, that was actually a dog, allegedly had a highly unfortunate encounter with a mean motor cyclist who dropped a tick on it. Not only was this poor dog infected with ticks some mean person put on it, this dog also smells out witches and bad people like Katy Perry, Kim Kardashian, and Beyonce. As if that is not strange enough, this lady said that her father adopted her husband and that they are all pure Chinese. She was definitely not Chinese. She just kept talking and talking until Kyler pretended to see Courtney and yelled that we had to go get her. Then we all ran for our lives and our ears.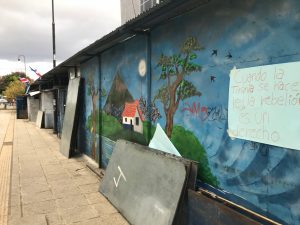 Everything else in San Jose went as expected. The restaurant where we ate was amazing and beautiful. Candles lit the table when it got dark and bananas, onions, and plantains hung from the ceiling. The best part of the San Jose adventure was, surprisingly, not the encounter with Shirt or Cat Lady, but the bus ride back. The bus we took on the way back had two stops before our stop and a very personable, friendly driver. At the first stop almost the entire bus got off. Kyler, despite our shouting, got off with those people. When he realized he was at the wrong station, which he realized before getting too far, he abruptly turned to get back on the bus. The bus driver insisted that he pay again. Besides finding this situation hilarious, I thought it was kind of rude for the bus driver to make Kyler pay again considering the bus doors had not even shut. It was then brought to my attention that there is a sensor that counts how many people enter the bus. That predicament made the situation all the more funny. As soon as the bus stopped at the next bus stop, the bus driver adamantly tells Kyler, by name, to stay sitting down, that this is not his stop, and that he does not get off here. We all laughed and laughed. As we were exiting the bus, at the correct location, the bus driver told Kyler to ALWAYS ask the bus driver if it his stop so he does not get lost. Then we laughed some more. That entire bus ride was hilarious looking back on it, but I think it was funnier then because we were all so extremely tired.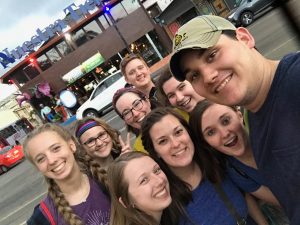 We ended the exhausting last day by walking to home base in a slight mist then crawling into our beds with our hearts and minds full from the wanderings of our week. 
Hanna Johnson
Class of 2021
Hearts and Handprints in Costa Rica
Thursday, March 8, 2018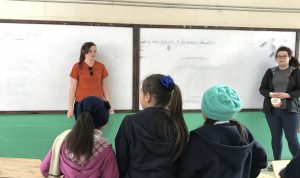 Today was day six on our Costa Rica trip and it was a blast! We started our day by going to do our service work at San Martin Elementary School. The day began by playing jump rope and dodgeball with the kids. They LOVE to play dodgeball and jump rope! They were so funny and it was so much fun to be able to play with them. After they were finished with their break and returned to their classrooms we began working on our service projects.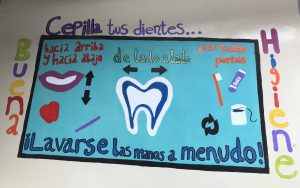 For our service projects we taught dental lessons to grades second and third today, painted the recycling stations which we built, and painted the bulletin board which we also built. We also worked on the mural which we designed. I was able to help with one of the dental lessons today. It was super hard but totally worth it because the kids were so much fun! I also helped paint the bulletin board with Robert and Haley.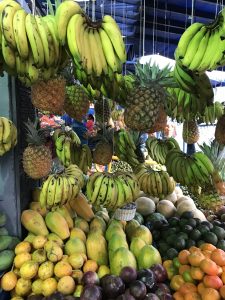 After we finished working on our service projects for the day we came back to the home base and ate lunch. Today we had some extra time before our next activity, so we rested and some of us caught up on some well-deserved sleep. This afternoon we had the pleasure of sitting in on a history lesson about Costa Rica presented by José, the Cross Cultural Solutions Program Director in Costa Rica. It was so great to hear about the history of Costa Rica. José told us that their next election is in three weeks! Did you know that they have a huge celebration after the election? We all wish we could stay a few more weeks to be able to witness the election and their celebration after the election.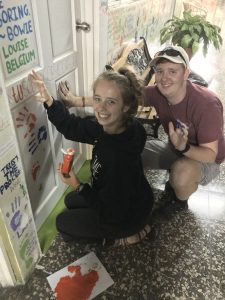 We finished our day by walking to downtown Cartago and visiting some of the local shops and the local market. Some of us bought pastries and fruit. The fruit is just so fresh and delicious! We had the pleasure of participating in a tradition here at Cartago's Cross Cultural Solutions home base and painted our hand prints on the walls of the center. We really enjoyed being able to leave a permanent mark here in Cartago.
I can't wait to see what tomorrow's adventure holds for us!
Sincerely,
Abby Poland
Bonner Leader, Class of 2020
Construction! Floss! Volcano! Oh my!
Wednesday, March 7, 2018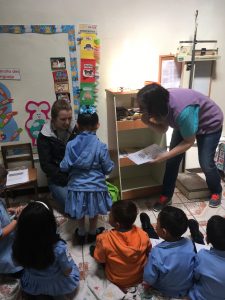 Our day began by heading back to San Martin Elementary School! We had various projects going on including: finishing up our recycling station and mural, building a bulletin board, and dental lessons with Kindergarten, 4th and 6th grades! My first project of the day was to put the last coat of paint on our Recycling station. I must say, Robert and Kyler did a fantastic job constructing!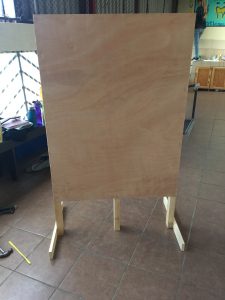 Next, I assisted Robert with building a bulletin board for the school lobby. I also assisted Dr. Cooper and Hannah with the Kindergarten dental lesson. The children already have a decent understanding about dental hygiene which has been super helpful! According to Jose, Cross Cultural Solutions Program Director, the Ticos take pride in their dental hygiene. The teachers allow time after lunch for the children to brush their teeth. Most of the children had never seen dental floss so we were able to introduce it in our lesson! We had a very busy but very productive morning!
We then returned to the Home Base for a very yummy lunch which consisted of pork and rice with pico de gallo and cantaloupe for dessert! Then we were off for an amazing adventure to see the Irazú Volcano National Park! We went to one that hasn't been active since December of 1994. But, we had a fantastic view of another volcano that is still active! Simply amazing! The pictures just do not do it justice! I believe we all experienced our first mild degree of altitude sickness, seeing as we were at over 11,000 feet of elevation for a couple of hours. But it was so worth it! Nothing a little Ibuprofen and water can't fix! The view above the clouds was breathtaking and it felt as if we were Care Bears bouncing on the clouds! We returned back to the Home Base for some free time out and about Cartago then dinner.
Dinner was a delicious fish with potatoes, rice and mango. We are about to head out to a REAL Fútbol game! Soooo exciting!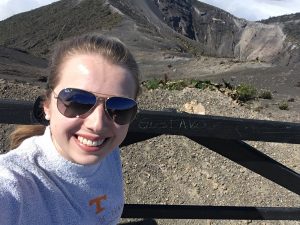 Haley Glenn
Bonner Leader Class of 2018
A Smile Says it All
Tuesday, March 6, 2018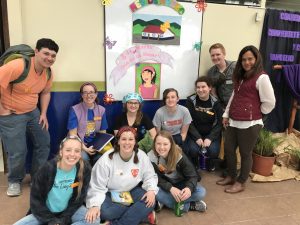 Day Four in Cartago! Today started with a very delicious breakfast. The breakfast included eggs and toast. Pineapple Jam, my favorite Costa Rican treat, is what I spread onto my bread every morning. I love it so much that I have bought two containers to bring home with me. Shortly after breakfast, we loaded up in the van to head to the beautiful San Martin Elementary School. One of my favorite sights in Costa Rica is the view of the mountains on the way to the school. The grass on the mountains reminds me of England, because it is so green. Once we arrived at the school, we stopped and took a group photo. Surprisingly, Courtney did not ask for this one!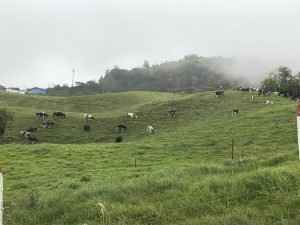 Today I worked mostly with the Kindergarten class, they are my favorite. The reason I love working with them the most, is because it reminds me of the kids at the daycare I worked at last summer. The home base we are staying at is covered in quotes from previous volunteers. A quote I saw that I really love, ties in with our work completely. The quote is, "Everyone smiles in the same language." There was one girl in particular that I have bonded with. Sometimes, the language barrier can be difficult. Today when I saw the little girl's smile it reminded me that we do not have to speak the same language for me to make a difference in her life.
After leaving the school, we came back to the home base and I took a Hela good nap. Then, we participated in a Latin cooking class. In the cooking class we made queso tortillas, and they were amazing! When I was watching the chef cook, I could tell she was passionate about her work, and she loves her job. Then, I took another nap…… (don't judge me). The schedule said that we were supposed to leave for our Latin dance class at 3:50, but we left at 3:45. I was napping and ran to the van with no shoes on. I am guessing we were not in Tico time.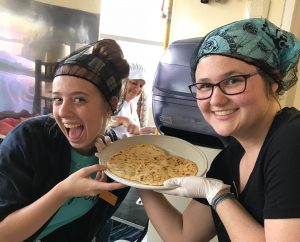 On our way to the dance class we drove by one of Costa Rica's beautiful universities. When we arrived at the dance class, my jaw surely hit the floor after seeing our very attractive dance instructor Fabian. I could not dance worth a lick, but I loved watching him dance. Fabian is like the male version of Shakira, and his hips do not lie. Despite my lack of dancing skills, and my inability to keep up with Kyler in the partner dance I had a lot of fun! After dinner, we had a Spanish lesson with our amazing Spanish teacher, Juan Pablo. The Spanish lesson as usual, went very well. Lastly, I am having an amazing time, and I am so thankful that I am having this experience.
Anastasia Gwaltney
Bonner Leader, Class of 2020
Primer Dia de Escuela
Monday, March 5, 2018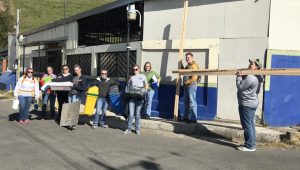 On Monday March 5, 2018 we began our day bright and early at 6:30 for breakfast. It was a delicious breakfast of French toast, and soft cheese and coffee. At 7:30 we left the home base for the school in San Martin where we will be serving for the rest of the week. Some of the projects that we are doing include teaching the children about good oral hygiene, building a stand for the recycling bins, painting a mural on the wall about dental hygiene and proper hand washing procedures, as well as helping the older kids with their English while they helped us with our Spanish.
The school has grades k-6th in attendance and in total there are 89 children that attend this small rural school. When we arrived, we introduced ourselves and Kyler told them that he was 12 years old instead of 20. After the introductions we made we played some soccer with them and jumped rope before we started working.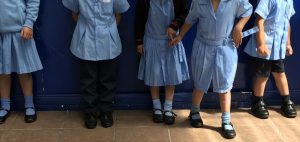 We finished working at 11:30 and headed back to home base for a tasty lunch of spaghetti with sauce and some sautéed vegetables and pieces of steak. When lunch was finished, and we let it settle after a while, we went on a walking tour of downtown Cartago that was led by Juvel the program coordinator for CCS! It is such a vibrant community and the people are very strong in their faith. On the tour we stopped by the local basilica (church) and some of the people would start at the back of the church and walk up to the alter on their knees! It was moving to see the strong faith these people have and to see how much it means to them. After the church we walked to the farmer's market and it reminded me of the artisans' shop in downtown Charleston, SC. There were so many vendors of different goods from fresh fruits and veggies to meat to little stores for little odds and ends.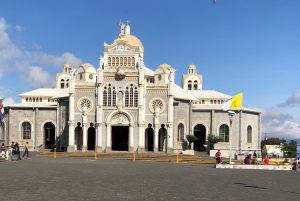 After we looked around the market and made little purchases, we went to the ruins and central park of Cartago. The ruins were originally going to be the church but three separate earthquakes hindered the construction and it was left as it is now. Now the ruins weren't falling over or an eyesore, I thought they were very cool to have in a city and to see that the people are actually still taking care of them to an extent was interesting because in the states, past a certain point buildings are left to fall. After the ruins and the park, Juvel left us to explore a little on our own and pointed us in the direction of a local coffee shop. It was so good! You can tell a difference in the taste of coffee between Costa Rica and the United States.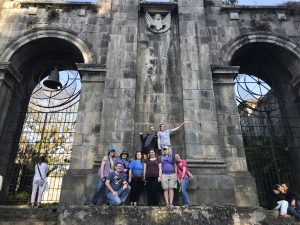 After the walk and the adventure downtown, we arrived back to home base for supper, which was rice, chickpeas, pork chops and steamed cauliflower, YUMMY! Now we are all winding down and preparing for another early start tomorrow morning to begin again.
Robert Nichols
Bonner Leader, Class of 2019
 ¡Vamos a Explorar!
Sunday, March 4, 2018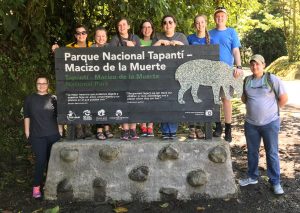 This morning Kyler,  Hanna,  our new friend Anne, and I took a short walk in Cartago.  I bought bread from a local panadería. It was muy divertido to talk to the clerk in Spanish. I saw people attending mass at a beautiful basilica this morning.  Some Ticos in shorts and t-shirts were kneeling by the door. It was nice to see the respect shown by individuals in the basilica. There were many people spending time together outside of the church,  as well.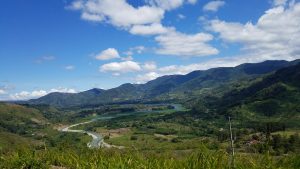 As we began our first excursion to a nearby rainforest,  everyone was so excited to see all of the Ticos out and about. There were a lot of people riding bikes and spending time with family. We even saw a few young children practicing driving with their parents! The weather was beautiful,  and the views of the mountains were breathtaking. I have never seen mountains like this.  Ticos build up the mountains,  not just having homes in the valley.  The buildings are sparse,  not crowded. They do not take away from the surrounding beauty.
We made our way to the Tapantí National Park. The park is a rainforest. Rainforests are an invaluable resource and home to thousands of species. Costa Rica has lost about 1/3 of its rain forests during the 21st century,  mainly due to deforestation.  I was so excited to go to the rain forest, since I am a naturalist. I learned there are many different beetles,  butterflies,  plants,  and animals in the area.  We saw a patch of wild ginger, several colorful flowers,  plants with gigantic leaves,  and my favorite an anteater!  He was very friendly and muy lindo.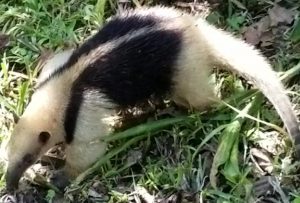 After,  we took a hike by the Stony River and saw a family relaxing together by the water. On the way home,  we stopped at several overlooks.  The views were so pretty.  At one of the overlooks,  you could see rows of coffee planted across the way. There were families relaxing on the lawn,  playing with their kids,  and enjoying the sunshine. I remember reading about families going to the park or relaxing by the river together, so it was neat to see it in person.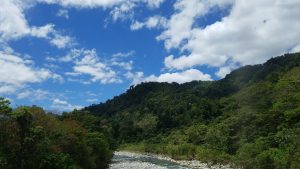 I really enjoyed today's adventure and hope this won't be the last time I am in a Costa Rican rain forest. This trip has been a dream come true already! I had wanted to visit a Spanish-speaking country since high school.  I took Spanish for three years and found a lot of joy communicating with native speakers.  Also, we had our first Spanish class today with local Juan Paulo. So, it was awesome to be taught by a native Tico. I look forward to starting service tomorrow and making new friends.  🙂
Kristen Lane in Cartago
Alumna,  Class of 2014
Cartogo Bound
Saturday, March 3, 2018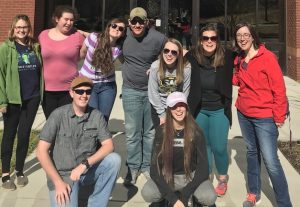 Early Friday afternoon a daring group of students and a faculty and staff member from Tusculum College headed to Atlanta. Our goal, to fly out midmorning on Saturday to San Jose. After our arrival we would spend the following week serving the community of Cartago, Costa Rica.
The airport in and of itself was a new experience for many in the group. Mixed results were had by all of us. I thought the views from the plane were incredible. The airport was much less intimidating than most of us expected. We flew over Cuba which holds a special place in my heart because my home church in SC had very risky missions there every few years. Clouds, ocean, and a volcano were just a taste of what we were about to see.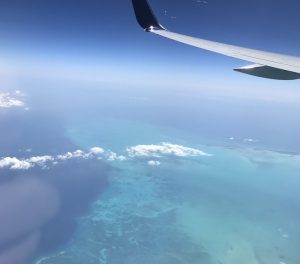 Arriving in San Jose was a real culture shock. At first glance nobody knew how to drive. However, upon riding in a taxi with a VERY skilled driver, we determined that they are in fact very adept at accident avoidance. We were even told by a Cartago native, when asked how the intersections work, that they do not! People just work it out.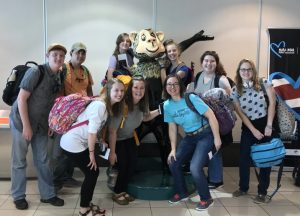 The most influential thing that I have seen is that Ticos (as Costa Rica natives call themselves) avoid interpersonal conflict to the extent that they do not even have a military. They are so friendly and guarded at the same time. We have been in Costa Rica less than 12 hours and have already learned so much. All of these things were learned during our orientation with Cross Cultural Solutions (CCS), the host organization of our trip.
Supper was phenomenal! I ate the best Pico de Gillo I have ever had. I also tried a few new things, some of which I still am not sure what they are. My hope for everyone who reads this learns just as much as we do.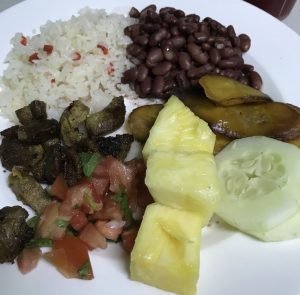 Kindest regards,
Kyler Johnson
Bonner Leader, Class of 2020