---
Directions to Tusculum's campus in Greeneville, TN
From Johnson City:
Take Highway 11E into Greeneville. Turn left onto State Route 107 at traffic signal just past Greene Valley Developmental Center. Turn almost immediately to the right at first road to the right (University directional sign there). Follow that road to the end and turn right. The main campus is to your left.
From Knoxville:
Take Interstate 40 to Interstate 81. Exit I-81 at Exit 23. Take U.S. 11E toward Greeneville. Stay on 11E Bypass around Greeneville. Take a right at traffic signal at the Food City Shopping Center (Hardee's to the right). The campus is one mile on the right.
From Interstate 81 North:
Take exit 36 onto Highway 172. Travel toward Greeneville for approximately 10 miles. At the junction of 172 and U.S. 11E North, turn onto 11E North. At traffic signal at Food City, take a right. The campus is one mile on the right.
---
MAILING ADDRESSES & PHONE NUMBERS
GREENEVILLE:
Tusculum University
Adult and Online Studies
60 Shiloh Road
P.O. Box 5004
Greeneville, TN 37745
Phone: 423.636.7312
Fax: 423.798.1622
KNOXVILLE:
Tusculum University
Adult and Online Studies
1305 Centerpoint Blvd.
Knoxville, TN 37932
Phone: 865.693.1177
Fax: 865.691.6391
MORRISTOWN:
Tusculum University
Adult and Online Studies
Mailing Address:
P.O. Box 1874
Morristown, TN 37816-1874
Physical Address:
420 W. Morris Boulevard
Morristown, TN 37813
Phone: 423.636.7312
Fax: 423.798.1622
Other Locations:
Directions to other Tusculum sites: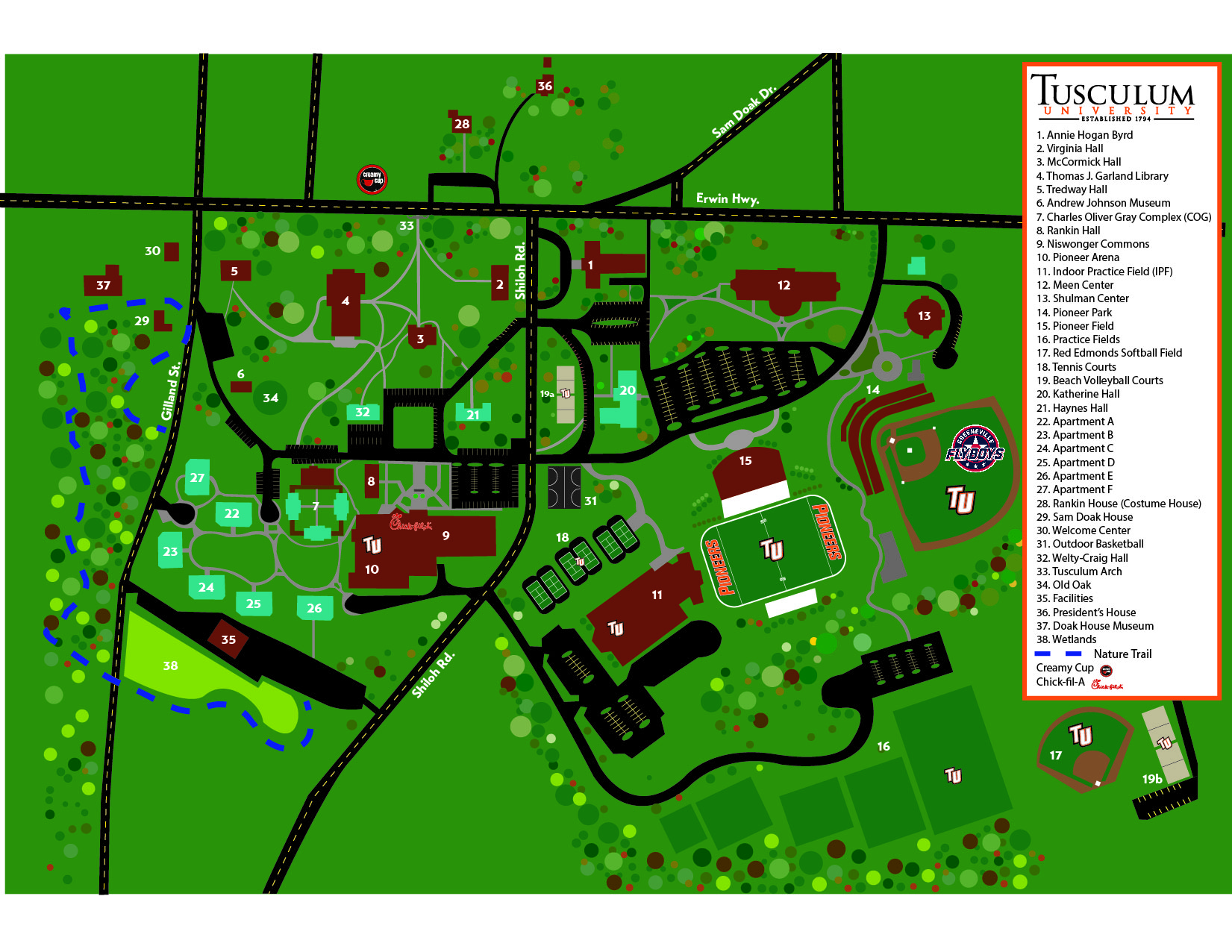 ---