Over Spring Break students and staff traveled to Charleston, SC to rebuild homes devastated by the floods this past fall. You can read about their experiences below.
It's the Final Countdown…"Fun Day"!
We all woke up, not uniformly this morning; rather on our on accord, with the assistance of the ever so charming Brianna Werder (BW) and her wonderful wake-up routine.  The morning was wonderful because we all knew we had completed a great amount of work this week with incredible precision and diligence and excited about our day of fun in the sun! LITERALLY!!!  Courtney at breakfast started out the morning by proving the students wrong about a band called Avett and their band name's pronunciation.  She was right after all, we think she cheated, but anyway…everyone had a bit more bubble than normal because we were excited to not work today and just have some free time.  Everyone took a bit longer in the bathroom to prepare from Tiffany to her "on fleet" skirt, to Morgan aka "Margina" with her Beyonce hair, and Jalesa with her fine tip edges (hair reference) and impervious nails that survived a week of hard labor.  Everyone was ready to get the day started and so off we went around 8:35 AM.  5 minutes later than expected…hahahaha!
We were on our way in the vans.  My van of Courtney, Tiffany, Haylee, Christian, Deondra, Jalesa, West, BW, and Dennis the menace (the CREW lol) grooving out to Alabama Shake radio and talking about Bonaroo on the way to Magnolia Plantation.  Trust me it was better than sounds.  They actually had chill alligators, show off peacocks, an awesome goat, and a train"ish".  So, we arrived almost right on time and even had some time to kill before our trip began.  So, what do we do…yes, more pictures.  We took amazing pictures on the bridge, really just a path, and laughed at the word boogaloo.  Then after we got done, we received the maps from a very delightful lady at the plantation who told us about a friendly deer named Grace at the petting zoo.  These apparently are two words you never let Christian and West hear because the moment that she was done telling us about the zoo West took off and leading everyone else in the wrong direction.  Christian noticed first and then turned around and walked to the animals at the petting zoo.  West realized and off he went again until he caught Christian and they entered together.  Everyone else soon joined them, spending all of our time there frolicking with the animals.  Between turkey chases, alligators climbing up gates, hidden snakes, posing goats, and cocky peacocks, we lost track of time.  Not to mention, there was a very loving, attention hog donkey and an adorable miniature horse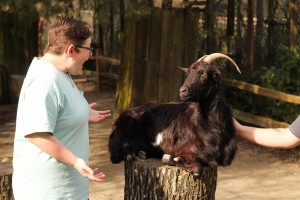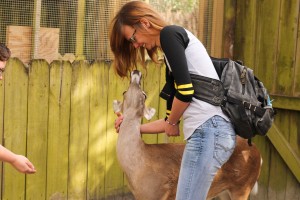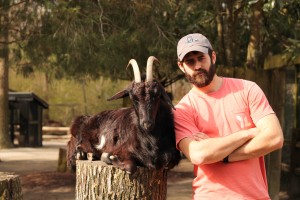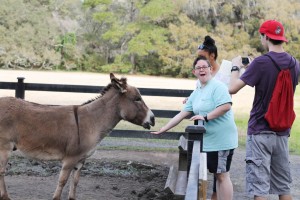 After seeing the animals, we all get on the train (not really a train) and guess what…more selfies of everyone and then we were off.  The tour guide was great but sounded like a retired librarian a lot of the time.  He was precious.  The tour wasn't long just a lot of oohing and awing as we passed magnificent flowers, beautiful landscapes, majestic ducks, and seriously chill gators.  I felt like Crocodile Dundee for a moment.  After the tour, the group with through an intense maze where Dennis was the first to get out.  Go Ghana!!!  Then West, Tarzan himself, the monkey boy Dennis, the dynamic duo Tarah and Sarah, and Bob the Builder Steven climbed a tree and guess what…more pictures. This time taken by our very own photographer in training Robert.  The scoop king…we'll get to that later.  The planation was great experience even at the end when everyone started getting hangry=hungry +angry! Clever, right? Good, I didn't come-up with it. Now, off to lunch at the Angel Oak tree and some epic car jams!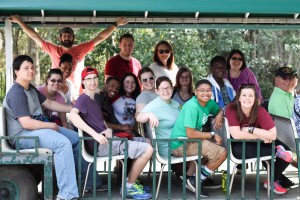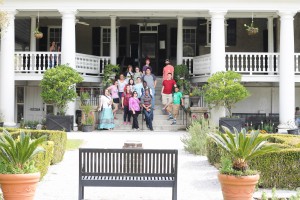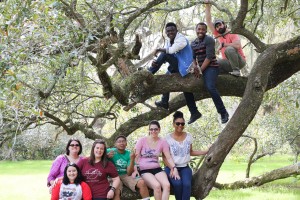 We arrived at the tree grounds and unloaded the vans for lunch and some exploration. This is where several shenanigans begin.  We all sat up our little colony area for lunch and ate as if it were every other day and enjoyed our sandwiches amidst the multitude of rules and tables chained to trees…like people were really going to to take a table. Anyway, we did what we did best, take photos and ask strangers take photos of us.  We learned that people really love tree pics and Courtney is an awkward solo pic taker and loves wide angle lenses. After multiple photos, we cleaned up, thanks to Mama Ronda and the awesome Kirai aka the real mvp!  Now, off to free time in the market square for a couple hours.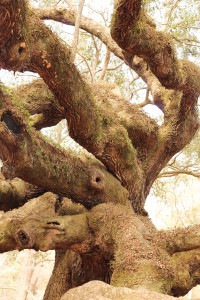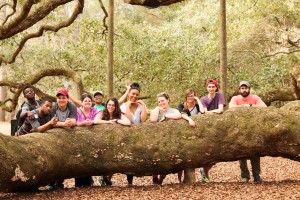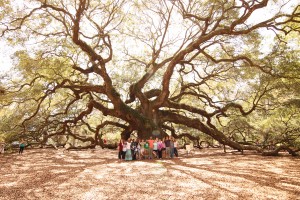 On the road again. We are in excited suspense and with some quick and NASCAR-like driving ability shown form Aunt Tiffany and Mama Ronda, who was able to follow through quick lights and ridiculous traffic, we got downtown and were given a couple of hours of free time. Off we went.  Groups of us left out to have fun, shop, eat, and explore. We had groups go out to the harbor and watch boats after shopping, we lost Dennis briefly, we shopped at the market square, we lost Dennis, some groups ate candy and sweets, we lost Dennis, and others ran out to find snow globes; also, we found Dennis in the end*. We all met back up on Meeting Street after our great excursion of downtown Charleston, which was great.  Next up, the main event, the beach!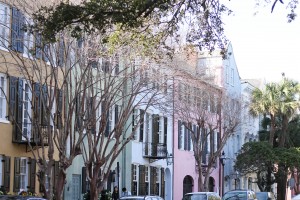 Have you ever played Chinese fire drill? Well, we kind of played it during traffic. However, instead of everyone getting out of the van, just West got out, and instead of changing seats he ran to Roda's van aka SQUAD for food because people were hungry for snacks (remember hangry?).  So with incredible communication and effort between West and his mysterious contact in the other van, he retrieved a bag of snacks for us running like the Flash and earning thumbs up from several drivers near us and being slightly left by the driver, Tiffany, but only by like 1 yard. Great job West!  Now, we go forward to the beach where we have an hour to kill.  Some people took time so shop for clothing. After the clothes run, there were two groups both took pics.  West, BW, and I all sank in the ground with Sarah, Dee, and Tarah on our backs for a great powerful sunset silhouette and several jumping photos that were rough on the knees.  Then we played in the sand and water.  In the other group we were collecting shells and other sea objects to make necklaces with. Morgan found the most! Epic!!! But we all had fun looking, walking on water, and just relaxing today. We cleaned our feet at the beach then headed to shop before dinner in 15 minutes.  We rush shopped, trying to make it to our food, and did!  After a good winded sprint.  Now food, which was ridiculous.  We ate like Kings and Queens at the Folly Beach Crab Shack. We had sooo much fun eating hush puppies and Crab and Artichoke dip and all the various foods we ordered. After laughs, battles, and food the group left for one last hoorah of shopping before we left and so everyone quickly dispersed.  Where we rediscovered the enjoyment of FroYo moments before we left.  It was incredible especially the chocolate and salted caramel.  Highly recommend.  Now, it is 9:30 and we are exhausted.  We load into the vans depart for the church to begin our greatest challenge yet…CLEANING UP!!!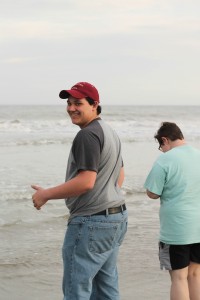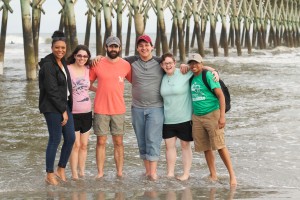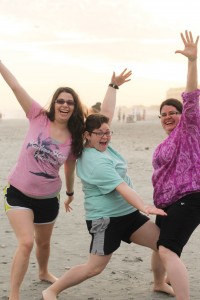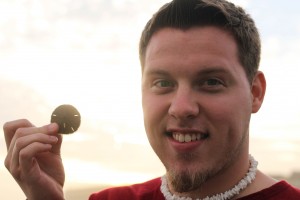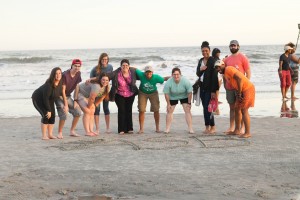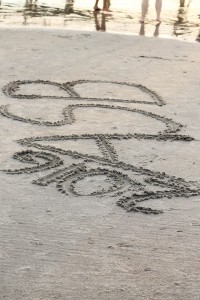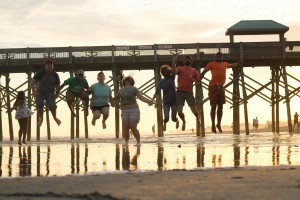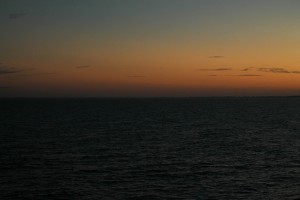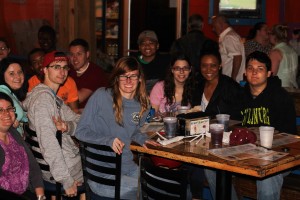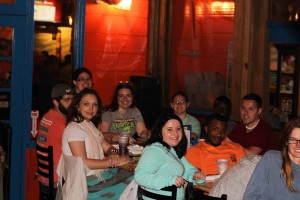 We got to the church to be given instructions and claim the tasks that needed to be done prior to leaving in the morning. Under the amazing direction of Courtney and Ronda, and Tiffany we were able to get organized and accomplish our tasks before falling asleep.
Well, that's all for now! Great talking but I have to sleep to be ready to start our move out day! This is Steven bka Mr. Fancy himself signing off.
*I think Dennis got "lost" on purpose.
Steven Hollingshead, Jr. (2015 TC Alum)
(3/11/2016)
We're Done! – Thursday
We woke up at 7:00am thanks to BW doing her morning routine of gently awakening us. After we rubbed the sleep from our eyes, we ate a breakfast of bagels, cereal, pop tarts, milk, juice, and coffee. While we were eating Ronda, Tiffany, and Courtney talked about what they wanted us to get done today and made new work groups for the work site. The two groups were to finish dry walling and painting in the front house and start priming the completed rooms in the back house.
The front house group was Ronda, Tiffany, Robert, Tarah, Haylee, and Jalesa with Christian and BW finishing the dry walling in the garage. Ronda has a sick sense of humor and put Robert in the room that he has come to know quite well: the Pink Room or XiaSha's room. He had to finish touching up the primer on the walls and in the closet. After he was done with all that the "stole" Tarah's phone to see where all the hangings that were on the wall went before he had started on Monday. (Let's look at this for a moment shall we, he started in there on Monday with a fantastically bright pink room, and he just finished putting primer on the walls today. The room now has no color on the walls it is just plain white, it's a wonder to him that he isn't insane from staring at white walls for hours on end.)  There is some good news though, the rest of the group was able to paint the dining room, the hallway and the kitchen using only a gallon of paint that was very thin and runny. But the rooms looked great at the end. Tiffany and Haylee went through the rooms that we had completed Wednesday and made sure that the paint was even and that there was none on the ceiling in these rooms. The "Baked" bathroom is not completed but it is not without trying on Robert's part, (I think that he just wanted to see some color on his roller).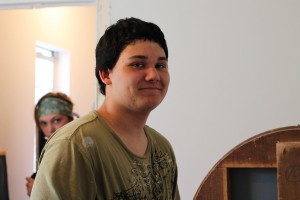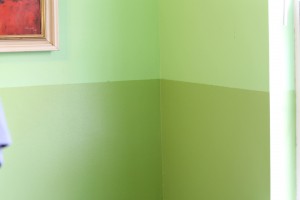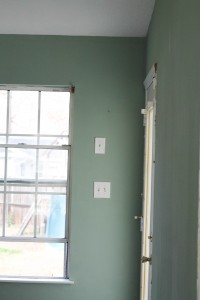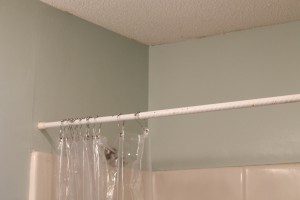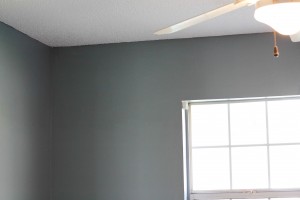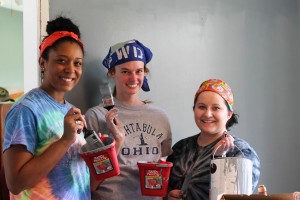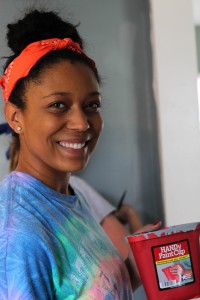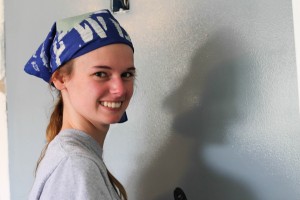 The second group finished drywalling Ms. Amanda's house and primed her bedroom, back room, living room and hallway. This group had Courtney, West, Sarah, Deondra, Kirai, Morgan, Dennis, and Stephen. This group was a wonder in its own right because Ms. Amanda has some really old clocks and they needed to be moved so that the living room could be primed. Jalesa and Tarah joined this group to paint the trim around the ceiling and the floor and in the corners. In one of these of these rooms there was a border along the top of the wall and we were unable to pull it off the wall so it was painted over (Kirai said he could get it but he was told to leave it alone). We got the priming done in her house and left after we cleaned up the dust and debris from working in there.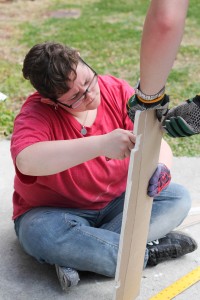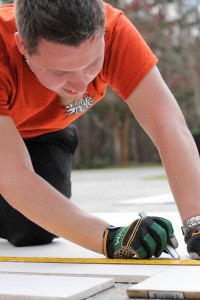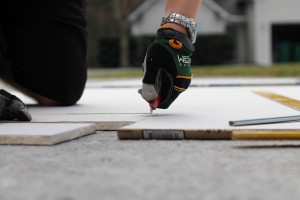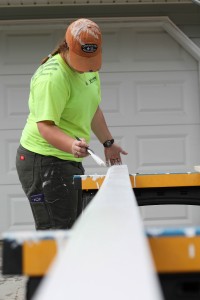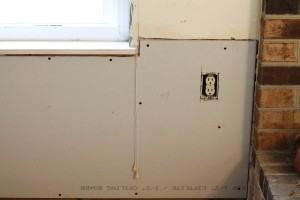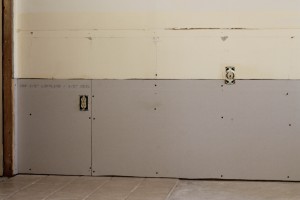 Before we left we got a picture with Mr. Charles, Mrs. Mary Jo, and Ms. Amanda and gave them a card saying thanks for trusting a bunch of college students to help fix their houses. We also wanted to thank them for letting us work with them and for them putting up with all the different music that was playing in each room. On the way home many of us fell asleep before we even left the driveway. When we got back most of us went right to our cots and air mattresses and fell right asleep. All in all, it was a great day. We FINISHED our tasks at the houses and it feels good to have accomplished this.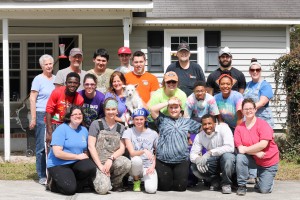 When we returned to the church Tiffany's group cooked us breakfast for dinner and it was fantastic. After eating, we had our daily debrief and then discussed plans for tomorrow. Tomorrow is our fun day, we will exploring Charleston and getting to know a bit more about this city where we've been for this week.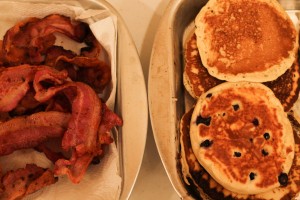 Robert Nichols (3/10/16)
It's Still… – Wednesday
At approximately 6:30 am the crew arose. We had a delicious breakfast and all conversed about the following night and the day to come. We loaded up the vans and were on our way! We watched the morning bird, Courtney Washburn, jam to the one and only Pat Benatar's  Love is a Battlefield. The entire week this song has been playing each morning as we travel to the work site.
As we pulled in, the crew started to liven up. We split our ways to the separate houses. The back house crew worked their hardest and finished dry-walling the entire house besides a little left in the laundry room. The front house worked through the colors and the smell of the new paint. Even though it smelled like old fermented vomit, the crew powered through the stench and the fumes and worked their hardest! We may have had a couple of students be feeling a little fuzzy if you know what I mean 😉 We came together for lunch and enjoyed the daily Starbucks provided by Charles, Mary Jo, and Miss Amanda! Great people! We continued to work hard even through the heat and fumes. We even finished drywalling the garage!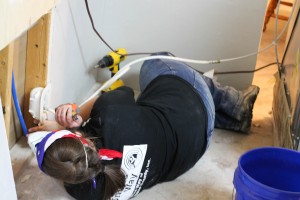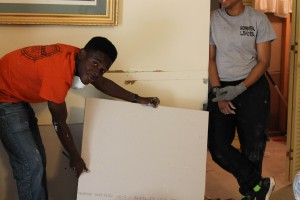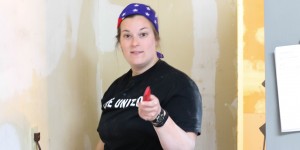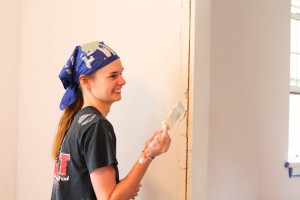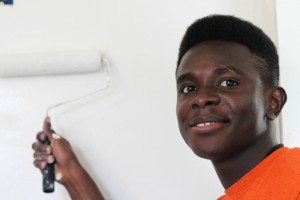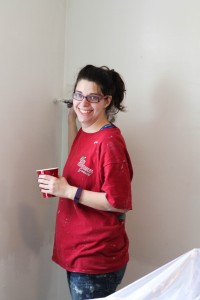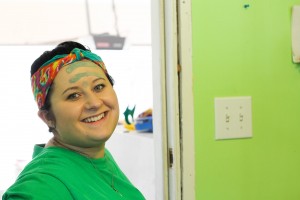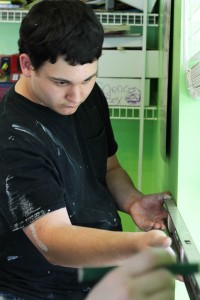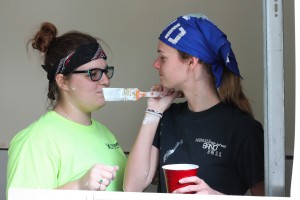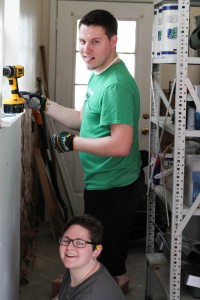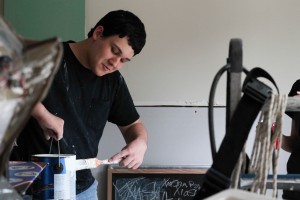 We packed up the site for the night and drove back to the church. Some students went for a walk to the Citadel and explored it a little more and went in the bookstore. They bought some shirts, cards, and some even got a pair of earrings that matched the front gate. We came back to enjoy some tacos and sweet tea. After dinner, we all sat around and talked about different topics. Pranking each other has become evening entertainment. We ended the night around 10:30 in hopes that we wouldn't be awaken by our friend, the raccoon, in the attic or loud alarms!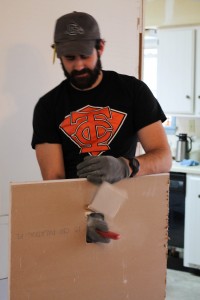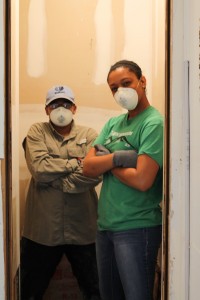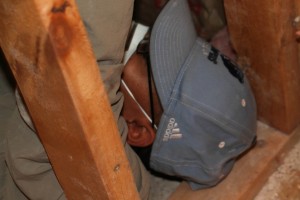 Christian Howard (3/9/16)
It Continues… – Tuesday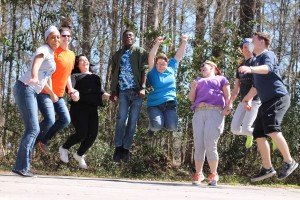 At approximately 6:00 AM this morning, someone's phone alarm went off sounding like the fire alarms we know all too well. This woke most of us up and we made the frantic yet groggy walk to the showers and bathrooms to get ready for our day. We soon found out that the building was not done messing with us just yet. One of the showers in the girls' bathroom does not have any hot water. Therefore, the girls only have two showers to use. Thats's fun, right?
We enjoyed a beautiful mixed breakfast of bagels and cereal and possibly 15 cups of coffee. Caffeine is quickly becoming our closest friend. Traveling to the work site went smoothly and we actually arrived at the houses ahead of schedule at 8:57 AM. Our groups separated and we began getting down to business.
The painting group started by going over Mr. Charles's and Mary Jo's bedroom with the green paint we started putting over the primer yesterday. However, the paint did not match the paint on the upper portion of the wall. It was only about a shade darker, but it was just enough to be irritating. After telling Mr. Charles about the situation, he told us to mainly focus on getting the living room completely painted and his wife's office done. So with the help of Ronda and Sarah, we made a straight line barrier around all the walls to mark where the new paint stops. It actually turned out looking alright…(we were a little skeptical).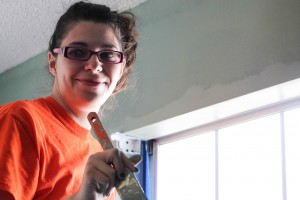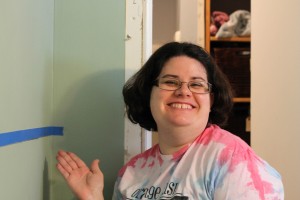 The office was finished in no time with the help of Sarah, Morgan and Dennis. However, another coat of paint will be needed tomorrow to make sure the walls look perfect for Mary Jo by the time we leave. Robert and Tarah honestly got the most tedious job today. Xiasha's (Mr. Charles and Mary Jo's 12-year-old daughter) room is bright pink. Their job was to completely cover the walls in primer in preparation for it to be painted a different color. The walls are bright pink…I don't think anyone realized how hard that job would be at the time. By the end of this trip, it will be safe to say that the painting group will not want to paint another wall for a very long time.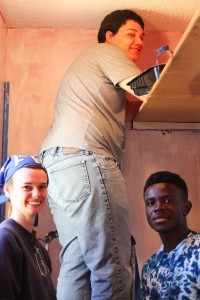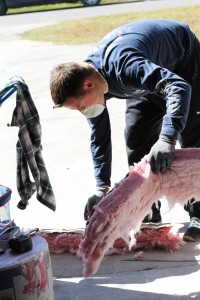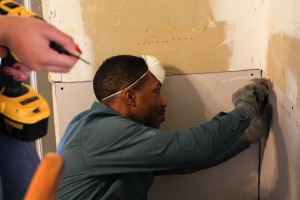 Right around lunch time Charles arrived with the drinks he picked up from Starbuck's for everyone. I was especially grateful for my fresh passionfruit tea. After a much needed break and lunch of sandwiches, chips and fruit we got back to work. We managed to finish most of the living room and we noticed that we will unfortunately need to touch it up more tomorrow once it has dried and we see where we need the attention. Robert and Tarah plan to finish priming the pink room. Robert jokingly said that he wants to finish painting that room and write his name in the corner to claim his work of art. We still have a lot of work to do at Charles and Mary Jo's house but we are working quickly and efficiently.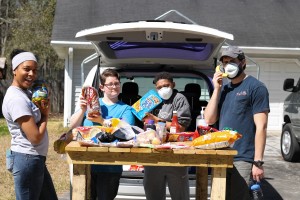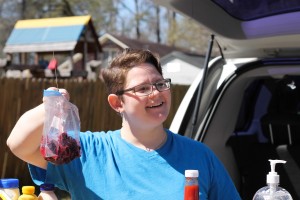 After returning back to the church, we had a delicious, yet late dinner of chicken nuggets, mashed potatoes, corn, steamed broccoli, and dinner rolls. It was much needed after today's work. After dinner we all sat around the table and talked about our favorite parts of today and what we expected from tomorrow. Dennis Acqua said his favorite part about today was that Charles told him he knew where his home country (Ghana in Africa) was and he began telling Dennis things about his country. Dennis said it made him feel really special and appreciated. We will end the night with "lights out" at 10:30 PM and hopefully a quiet, critter-free, intact ceiling night.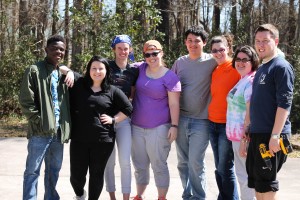 Haylee Dean Reed (3/8/16)
It Begins – Monday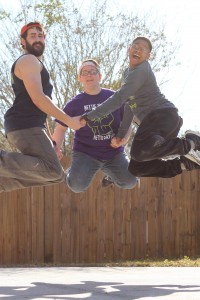 At approximately 12:42 AM eastern standard time a critter of unknown origin caused a portion of the gym ceiling to collapse upon Brianna "BW" Werder causing quite the stir among our group members. This took place after one of the shower heads did not want to turn off, but Mr. Hollingshed and his impressive plumbing skills solved that problem.
Our Team had a nutritious breakfast and was on our way to the work site when yet another "memorable moment" happened, when Ms Dearstones took a corner with a little too much enthusiasm causing the cooler to spill water all over the back of the Green Van ( it dried out nicely).
When our team finally made it to Summerville, SC (suburb of Charleston) we met the delightful family we would helping, Charles, Mary Joe and Ms Amanda. Their homes had over a foot of standing water in them during the floods. There had already been a lot of repair work done before our group arrived. Ms Amanda's (Charles's mother who lives in a smaller home behind his and Mary Joe's home) home needed the bottom two feet of all the walls insulated and dry walled. Mr Charles and Mary Joe's home need to be needed the interior primed and repainted. This puts the family closer to having their homes back to normal, after "camping" in their houses for the past six months.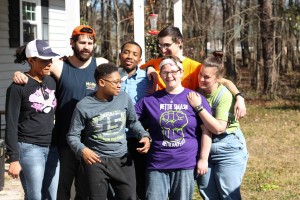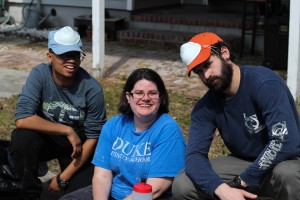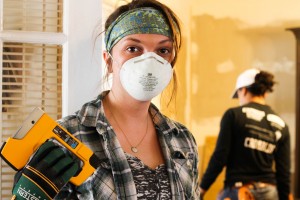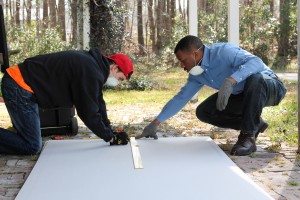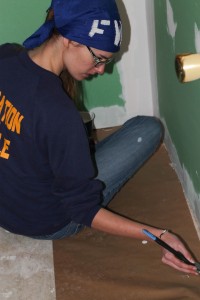 I can proudly say after a first day's work, Charles and Mary Joe's home is entirely primed and ready to be painted tomorrow and Ms Amanda's home is entirely insulated and mostly drywalled and will be mudded tomorrow.
Upon our arrival back at base camp (AKA the gym of Asbury United Methodist Church), a majority of the team took naps, played card games, or played catch. We then discovered for some reason the lights would not turn on in the gym, but the problem was soon resolved by a Church member who found the proper switch. Group 3 cooked ( Morgan, Steven, Ronda, and DD) a delicious meal of salad, pasta, chicken, with two different sauces. Then Ms. Ronda Gentry came back from Walmart with a generous gift of….
AIR MATTRESSES, and the Group rejoiced. We concluded the day with a team meeting discussing the day's events and the several members of the the Group staged a coup that resulted in Courtney Washburn being picked up while in her sleeping bag and being sandwiched between two Air Mattress and sat on. Said members of the team will remain anonymous for there own protection (DD, BW & West)
Stay tuned for tomorrow's update.
West Thomas Connor 3/7/2016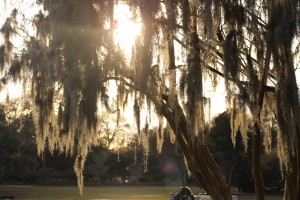 The Arrival – Sunday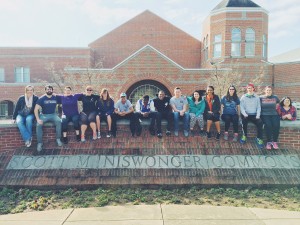 Today students and staff departed Tusculum for Charleston, SC for a week of service. Three vans loaded with people and stuff traveled down the highway towards this year's Spring Break adventure. Today has been a day of firsts for some. For one student, it was her first time to South Carolina. For another student, today marked the first time he has ever eaten pizza. For others, today was the first time meeting some of their fellow students.
After several hours on the road (more than we'd hoped for due to LONG stops) we arrived at our home for the week. We were welcomed by the fantastic hosts of Asbury-St. James United Methodist Church. After some brief instructions we began to settle in. Later this evening we were introduced to our Work Supervisor for the week, John. John, told us that we would be working on two houses this week. Both suffered flood damage from over a foot of water entering their homes during the devastating floods last fall. When we heard what we would be doing this week, everyone became excited to meet the families and begin work. Our hope is that we can help restore some sense of normalcy for these families by fixing their homes.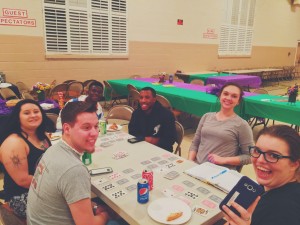 After eating a fantastic dinner from a local pizza place, can you say fresh mozzarella and lots of garlic (yum), a few of us ventured to the grocery store. To say that this was an adventure is an understatement. After an hour of laughter and three filled carts, we made our way to check out. We had a wonderful cashier who constantly laughed at our attempts to help her. I think we were a bit more trouble than help. We then loaded up the carts to head back to the church. Since the grocery store is literally right behind the church, we decided to walk to the store and bring the carts back. Unfortunately the carts had brakes on them that didn't allow them to move well when not in the store. This made for a fun and teamwork filled journey back to the church. (It takes two people to lift a card over a step, in case you wanted to know.) As we unloaded the carts, the students remarked that they didn't think we will need so much food for a week, however the staff are betting that we'll be back to the store at least once more before the end of the week. After we finished putting away the groceries, a couple of us took the carts back. I don't think anyone at the grocery store has encountered a group quite like ours, but I think we won them over. 🙂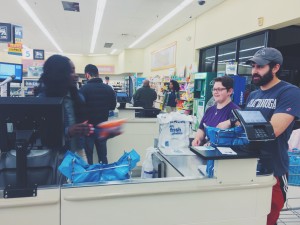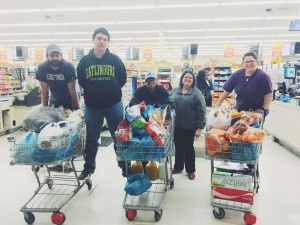 With today's adventures we're ready to get some sleep so we can greet tomorrow with enthusiasm. Here's hoping that tomorrow is filled with more fantastic firsts.
Want to go beyond the blog? Follow us on Instagram @Tusculum_CCA  #PioneersServe
Want to see how we're joining other students across the country who are also on Alternative Spring Break Trips follow #ASB2016.