Over Spring Break, a group of students and staff traveled to Sevier County to assist the recovery efforts of those affected by the recent wildfires. You can read about their experiences below.
A Match Made in Heaven: Day 5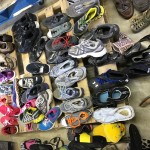 Today we helped out Smoky Mountain Area Rescue Ministries (SMARM) again, but this time we were separated into two groups of four. The first group (Michael, Kyler, and Courtney) went back to the warehouse we were at yesterday. They were sorting and matching different pairs of shoes, and went through a large amount of boxes. Friday morning started out a little bleak because of the rain that was forecasted, but as we arrived at our work site that all changed with the arrival of the sun.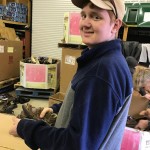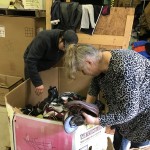 My group, the second group, ended up going to one of their stores and worked there all day. Our first job was to take bags of clothes and put them in a moving truck for transportation to another location. Kayla, Robert, Cedric, and myself, made an assembly line to pass along the bags easier. One of the biggest problems that we faced was that some of the bags were ripped or and had small holes in them. This took about forty-five minutes, then we transferred over to matching shoes that were in boxes, behind the clothes we put into the moving truck.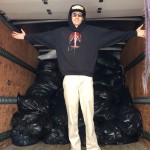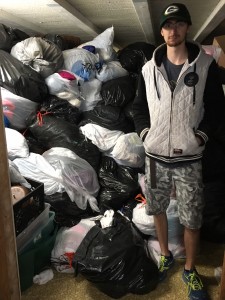 We spent the rest of our time matching shoes from the boxes, and there were a lot of shoes. But we were luckier than the group at the other warehouse, because most of our shoes were already in pairs when we opened the boxes. Whilst we were going through the boxes we all came across random things that didn't really belong, such as Lego's, make-up boxes, ball-point pen and box, a key, and so on. Our group had a lot of fun working at the thrift store that time just flew by and it was time to go. This trip was a blast, and I hope that our help in this community helps them get back on their feet!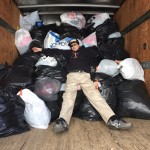 Kirai Kozak, Class of 2019
A Shoe In: Day 4

Day four of our Alternative Spring Break focused on working with the Smoky Mountain Area Rescue Ministries (SMARM). They are very active in helping people in this area who have been through or are currently going through crisis situations. As planned, we arrived at their thrift store at 10:00 a.m. to assist them with everyday tasks, only to be told that we would be needed on the other end of town to help sort through shoes at their warehouse. However, we did not expect to see what we did when we got there. An entire truckload of used shoes! In the hour and a half that we were there, we matched up approximately 1.5 tons of shoes! All of the shoes donated were mixed together in very large cardboard shipping containers.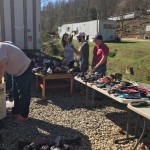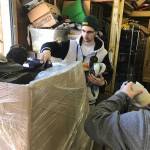 Back at the cabins we sat and ate lunch, then some of us played cards and others rested until time to go and serve at the local soup kitchen. The soup kitchen was hosted by a local church in sponsorship with SMARM. We followed the directions given to us and arrived at the address. The building which we arrived at did not look like the one where we were supposed to be at to serve. Courtney called the person who we were instructed to get in touch with if we had questions. It turned out that there was a miscommunication as to where we were supposed to serve. Our planned destination was almost 25 minutes away. He told us that where we were currently at was a new soup kitchen and that we were more than welcome to serve at our current location rather than to make the trip across town to our original destination. So that is what we did. It was an amazing experience. We served 28 people supper tonight at Red Bank Baptist Church.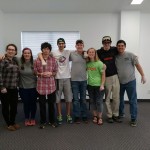 Some of us have gone back out tonight to play putt putt golf. I however, did not go because I do not like to play any form of golf. Abby and I stayed behind to work on this post and chat about randomness. We are winding up for our last day of this service trip. I am privileged to get to share with you the events of one of our days in Gatlinburg, and am currently waiting in anticipation for the return of the mini golfers because I hear that they are bringing back doughnuts!
Kyler Johnson, Class of 2020
Fish, Odditorium, and Dollie Forever: Day 3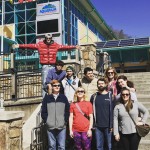 Today, Wednesday, was our fun day. The adventure started shortly after making our lunch sandwiches and departing. Our group was treated to the all the Ripley's attractions in Gatlinburg, including the Aquarium of the Smokie's, Haunted Adventure, Moving Theatre 5D, Mirror Maze, Davy Crockett Mini-Golf, Old McDonald's Farm Mini-Golf, and Believe It or Not! Odditorium! We are very appreciative to Ripley's  for treating us with these tickets and allowing us to have a great fun day!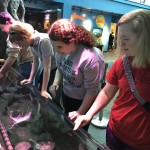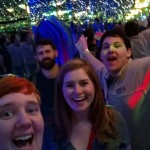 The group used the tried and true buddy system that we all learn in grade school. And while I (West Connor) was not present for all events, the general theme of the day was a positive one. Courtney, Kayla, Abby, Kyler, Robert, and Haycox enjoyed the company of penguins at the aquarium, while Ms. de Rohan (aka Corey), who knows a thing about museums (museums studies major), was impressed by the content and incorporation of aquatics into the historical information. In other news, Michael Haycox fearlessly led a group into the Haunted Adventure. The group consisted of himself, Corey, West, Kirai, Cedric, and Kayla (in that line order).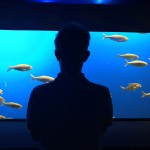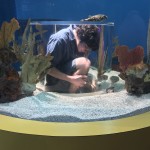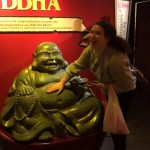 The whole group was then off for a short rest at Discipleship Focus before heading out for a night of adventure at Dolly Parton's Dixie Stampede. Our group was seated in the Northern side and cheered loudly, hoping to win. Unfortunately, spoilers the South won. We still managed to have a great time! The highlight of the evening was when I, Mr. West Connor, answered the host's question of "what should you do in this situation?" by yelling "PANIC"! The host actually took a moment to compose himself after laughing. We enjoyed a delicious no utensil meal of soup, cheddar rolls, rotisserie chicken, pork tender loin, buttered corn on the cob, apple turnover, and coffee. If a poll was taken of everyone's favorite part of the show, I think it would be safe to say the mini horse racing won by a landslide! The adventure didn't end with Dixie Stampede! No, most of the group then proceeded to layer up and head back to Gatlinburg to experience the night life (aka putt-putt).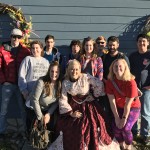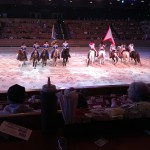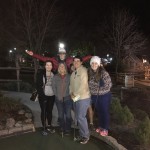 West Connor, Class of 2017
Breaking our backs but having a blast: Day 2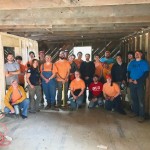 When organizations come together on a project, it's a beautiful thing. Not only did we work with the fun Live It team again today, but we were joined by AmeriCorps members and volunteers from DENSO in Maryville, TN. It was amazing that we had to send for more tools for over 20 volunteers! I think that the work today felt more satisfying because we had come together for a common goal. The AmeriCorps members have been in the Gatlinburg area for disaster relief since late November.
The house we were working on is unique. It is on a triangle-ish lot with a beautiful ivy covered rock face along the back. As Robert said, the property was donated to Live-It a few years ago. Ryan, our site leader, told us that they were originally unsure about how to use this house until the fire happened. Now, we are restoring this place for a family that lost everything in the fire. It's beautiful to think of a house that had been empty for so long becoming a loving home again. Prior to the Live-It project, the property had been reclaimed by the surrounding nature. Because the lot is small, the existing house has to be utilized instead of building from scratch. This means that our experience was vastly different than the usual Habitat for Humanity experience. I think that made it more fun.
While a smaller group worked inside, the rest of us tackled the massive pile of fill dirt. It feels like we got in enough wheelbarrow time to dominate in some relays (watch out family reunions). Cedric has now mastered the art of swinging the pickaxe. I'm trying to convince him to do AmeriCorps after he graduates because he loves it so much.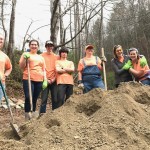 It is amazing to see the progress we have made along the back of the house! We were lucky to have Betsy Long from the Registrar's office join us for the day. She stepped up and helped us remove the old grounding rod. The eventual goal is for a French drain to direct the water away from the house, so we had our work cut out for us. We used rakes, shovels, pickaxes and adzes to widen the space.  A few people began to demo the fireplace, so we broke away from the shoveling to sort through piles of bricks and cinder blocks.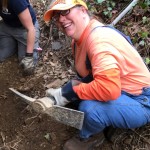 The inside crew had a great time playing with power tools. They bonded with their slightly stern, but completely endearing leader, Charlie. They finished their work on the floor, then took down a few of the less than ideal beams from what used to be the ceiling. Their last task was putting up the first of the new walls. It had begun to rain, so a crowd gathered to cheer and applaud as the wall finally went into place. In a cheesy way, if felt like a nice symbol of all our groups coming together to give this home a new life.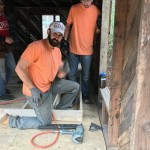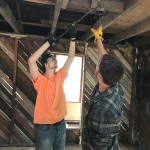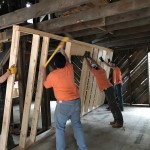 After a yummy Taco Tuesday we ventured out into town. Courtney treated us to some Marble Slab. The plan was originally to pick one of the many putt putt courses along the strip. Considering that we were behind schedule, our options were limited. Our group is so fun that we still had a great time just driving around.
Until tomorrow,
Corey de Rohan, Class of 2017
And so it begins: Day 1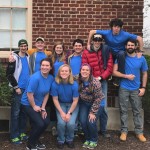 The Tusculum College Alternative Spring Break (henceforth known as ASB) started at 7:30 a.m. in the CCA on the second floor of Rankin Hall. The group consists of Courtney Washburn and Kayla Miller as the staff representatives and the students are: Abby Poland, Kirai Kozak, Cedric Sphar, Michael Haycox, Corey de Rohan, Robert Nichols (today's writer), Kyler Johnson, and West Connor. We met up in the CCA to eat a small breakfast of poptarts and bagels, as well as get our matching volunteer shirts that we need to wear on the work site. Once everything is sorted out and everyone has eaten, we pile our luggage, food, and supplies into the two Tusculum vans that are our modes of transportation on this trip. We put all of the stuff in the vans and take our picture before we were off. All the while we were outside we were listening to the Lion King soundtrack, and I thought it was a good start for our trip.
West drove his own car and he wanted some company. While he distracted Courtney and Kayla, I snuck off to the passenger seat of his car. It worked until we stopped at one of the residence halls and Kayla spotted me.  Sadly due to liability issues, I had to ride in the Tusculum vans with everyone else. We finally left the school around 8 o'clock in the morning and arrived at the work site in Gatlinburg at 10:15 A.M.
We are working with a non-profit organization today and tomorrow called Live-It. We were led by 3 Live-It volunteer and staff Ryan, Charlie, and Corky (no lie). Ryan met with us and told us what our jobs were going to be for the next two days, putting in flooring and clearing out around the cabin. He also explained that the property was not damaged by the fires, but donated years ago to the organization. They are repairing and building on to the existing structure in order to provide a new residence for a family displaced by the disaster.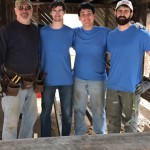 I, Robert, was inside with West, Kirai, Charlie and Corky. We did a lot of work in the 5 hours of our service day. We were able to finish the flooring on one side of the house and start on the other side. West was given the all-important job of operating the nail gun. Every time Charlie would look at him he would start to put the nails in the gun backwards. I think he was a little flustered by the end of it. Kirai was helping Corky cut the pieces of the flooring that needed resizing, while I was sweeping where the new boards were going, then helping put them into place (as they were tongue and groove pieces).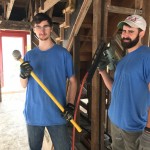 The outside crew consisted of Courtney, Kayla, Corey, Cedric, Abby, Kyler, and Michael. Their jobs were actually broken up into several different tasks: from pulling old siding off of the outside walls, to swinging pickaxes to break up rocks, to cleaning up debris around the house. They also worked together towards the end of the day to organize and move the latest lumber delivery.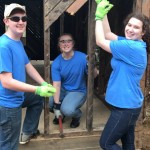 We broke for lunch around noon and had a couple of visitors of the 4-legged kind, a couple of very friendly, slobbery boxers, and another dog that we could not tell the breed. Live-It staff member, Ryan, also joined the lunch crew and shared a sandwich with us.
After a long first day's work, we finally wrapped up and headed to our home for the week, Discipleship Focus TN cabins. We are staying in two separate cabins that are broken up by gender. The cabins themselves are nice and it is pretty great to have an actual bed on one of these trips. They have a room on either side; the rooms have two bunk beds in them, as well as a fully functioning kitchen. Each room has its own bathroom as well as a place to put our stuff.
After settling down and having a little free time, Abby, Kyler, Corey,and Cedric prepared a lovely meal of spaghetti and salad. Although we were all exhausted at this point, a brave few took on the massive shopping trip. These brave few consisted of Courtney, Abby, Michael, Kyler, and I. We ended up at the check-out counter with two full carts of groceries and received 266 Kroger points!!!!! Now we headed back for some much needed rest and relaxation before tomorrow.
Robert Nichols, Class of 2019