Tusculum University's mission is built on a rich Presbyterian heritage and a pioneering spirit.
Tusculum University provides an active and experiential education within a caring Christian environment to inspire civic engagement, enrich personal lives, and equip career-ready professionals.
---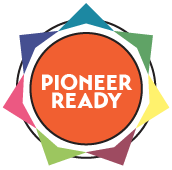 Focus
Pioneer Ready is the focus of the Quality Enhancement Plan (QEP) for Tusculum University and aims to prepare students for careers by centering student learning outcomes on the following National Association of Colleges & Employers (NACE) competencies: career management, teamwork and collaboration, and employment readiness with a focus on résumé and interviewing skills.
Objective
Positive work habits, in the form of Pioneer I's, is the QEP program objective. Opportunities to learn, demonstrate, and reflect on these work habits are a critical part of Tusculum's QEP.
These outcomes are achieved through activities and assignments where students…
Analyze and compare career options for a chosen field of study (career management – SLO 1)
Collaborate with peers on a discipline specific project (teamwork and collaboration – SLO 2)
Produce an effective résumé (employment readiness – SLO 3)
Learn critical interviewing skills (employment readiness– SLO 4)
These four student-learning outcomes are supported by plans of action, assessment, and the requisite resources to achieve them.
---
CLICK BELOW TO EXPLORE EACH STUDENT-LEARNING OUTCOME
---
Click here to download a brief informational tri-fold brochure.