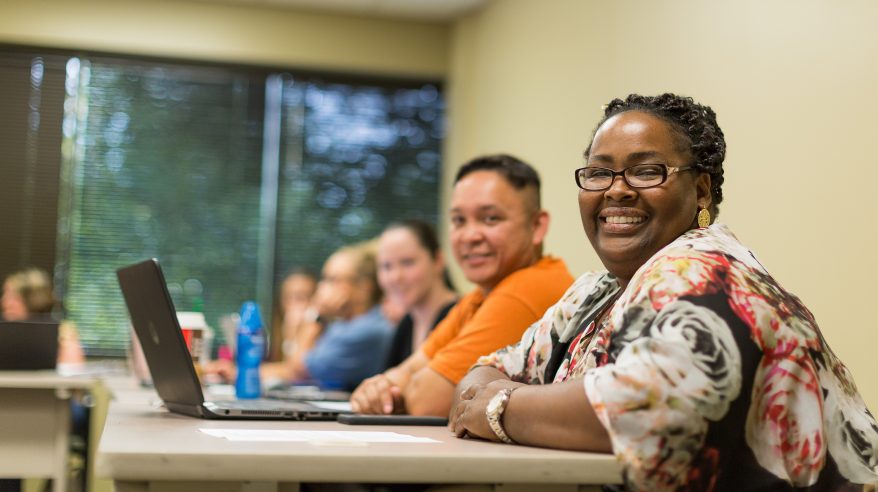 The College of Education offers Master of Arts in Education and Master of Arts in Teaching graduate programs.
MASTER OF ARTS IN EDUCATION
The Master of Arts in Education degree is a unique 12-month, 30-31 hour program for currently licensed K-12 classroom teachers. The program is designed with a strong focus on the effects of human physical, emotional and cognitive growth on planning and implementing developmentally sensitive educational pedagogy. Students completing this program will also develop advanced analytical, critical thinking, and ethical decision making for improving curriculum and service delivery in diverse learning environments.
Curriculum and Instruction concentration : 10 fully online courses for classroom teachers with an emphasis on effectively teaching all students, including those with special needs, within the classroom
Special Education concentration : 9 fully online courses, 1 hybrid course, and 1 practicum course for classroom teachers who want to obtain add-on endorsements in Comprehensive K-12 and Interventionist K-8
MASTER OF ARTS IN TEACHING
The Master of Arts in Teaching, a 37-50 semester-hour program, offers individuals holding a bachelor's degree in specified areas the opportunity to pursue teacher licensure. The K-5, 6-12 (content specific), and K-12 (content specific) licensure programs are scheduled for working adults who currently hold a bachelor's degree and wish to pursue a teaching license and obtain a master's degree at the same time. Applicants must be admitted into the Teacher Education program prior to beginning any coursework in the curriculum.
---
MASTER OF ARTS IN SPORT ADMINISTRATION
Graduates of the Master of Arts in Sport Administration program are well suited for a wide range of occupations within the industry including management, marketing, coaching, facilities management, analytics, sales, event planning, and public relations and broadcasting categories. The 30 credit hour program can be completed in one year beginning in the fall term and culminating in a summer internship. Full-time students attend two full days of class per week. This online program is ideal for regional, international, and veteran students.
---
MASTER OF ARTS IN ORGANIZATIONAL TRAINING & PERFORMANCE MANAGEMENT
The Master of Arts in Organizational Training & Performance Management is designed for adult learners currently working in or preparing to work in positions of leadership within organizations. The curriculum is designed to encourage students to apply their personal work experiences and interests to project-based activities related to employee skill and competency development, training curriculum design, leadership, strategic planning, and much more.
---