HOW TO CONTACT THE REGISTRAR'S OFFICE DURING COVID-19 PANDEMIC:
Our staff continues to work diligently to serve our students – past, present and future! The Registrar's Office is now open from 8:30 AM to 5 PM Monday through Friday.
Your health and safety continue to be our priority. You can continue to schedule a video conference or phone call with a member of our team by simply emailing RegistrarTU@tusculum.edu and we will be happy to assist you remotely.
---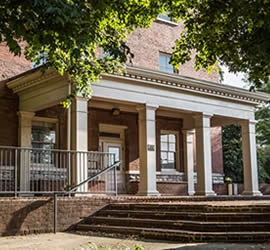 The Registrar's Office is located in Virginia Hall, Ground Floor, office G-12.
Address: P.O. Box 5050, Tusculum University, 60 Shiloh Road, Greeneville, TN 37745.
E-Mail: RegistrarTU@tusculum.edu
Phone: 423.636.7311
FAX: 423.636.5087
Office Hours: 8:00 am – 5:00 pm, Monday – Friday
---
It is our goal to support Tusculum University's Judeo-Christian environment and to professionally manage the academic information infrastructure of the university and provide quality, prompt, and courteous customer service to students, faculty, staff, alumni, and the community.  We assist all students with services and programs that enhance their academic success.  The Registrar's Office provides:
Preserves and maintains accurate and secure academic records for the university
Evaluates and posts transfer credit
Processes requests for prior learning credits
Certifies veteran and athletic eligibility
Maintains the undergraduate and graduate curriculum and academic catalog
Confers degrees
Registers students
Publishes course offerings and final exam schedules
Assigns academic classrooms
Manages a degree audit system
Complies with and enforces the academic retention policy
Complies with and enforces FERPA regulations
Prepares the academic calendar
Prepares and posts academic term honors
Prepares enrollment and degree verifications via National Student Clearinghouse
Provides official transcripts
Updates personal data
Assists with Commencement related activities