As Tusculum is a residential college, where the majority of our student body reside within residence halls on our picturesque campus.
Tusculum values students living on campus due to the opportunity to participate in the incomparable experience of living on campus during these memorable and formative years and benefit from the educational opportunities unique to this experience.
Each residence hall has laundry facilities to service the residents of the hall. There is no need for collecting coins to operate the laundry machines, as students pay a nominal laundry fee each year to cover their unlimited use of the provided equipment. Each room has a phone connection and each resident has their own high-speed internet connection!
Living on each floor of the residence halls you will find at least one Resident Assistant, sometimes more! R.A.'s are para-professional students trained to assist their peers in acclimating to college life and build a community in their living area.
KATHERINE HALL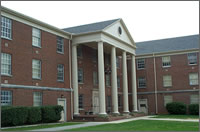 The largest of Tusculum's six residence halls, Katherine Hall provides student housing on its three floors.
Katherine Hall is comprised of double and triple rooms with air conditioning and community baths in each wing.
Katherine Hall houses approximately 140 students, 6 R.A.'s and has a full-time live-in professional who manages the facility.
WELTY-CRAIG HALL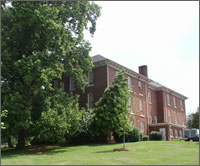 Formerly Craig Hall, Welty-Craig Hall was renamed in honor of Mr. Stan Welty '51, former Chairman of the Tusculum Board of Trustees and a Benefactor of Tusculum.
The atmosphere of the hall has changed much since when Mr. Welty lived in it;
Welty-Craig is an air-conditioned, co-ed facility of primarily upperclassmen housing 40 students and three R.A.'s.
HAYNES HALL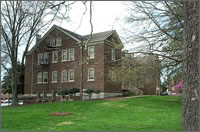 Haynes Hall is one of Tusculum's most historic buildings, having been built in 1914. Its original character has survived remodeling and renovations.
One of the most appealing parts of this men's hall is that every room in the building has its own individual features and characteristics. This isn't your run of the mill, cookie cutter hall – every room is different.
Haynes Hall houses approximately 50 men and three R.A.s.
THE CHARLES OLIVER GRAY COMPLEX (THE COGS)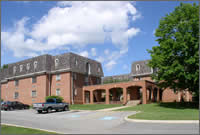 The "COGs", as many students and alumni know it, was named for past Tusculum president Charles Oliver Gray.
The complex consists of four buildings, three of which are residence halls (the fourth building, North, is used for offices and classrooms).
COG East hall provides housing for female residents. COG South and West are co-ed residence halls.
Each unit houses approximately 35 individuals and two R.A's, the COGs also have a full-time live-in professional.
MASTRAPASQUA HALL & APARTMENTS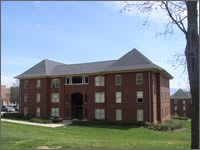 Construction of four residence halls was completed in summer 2002. In 2013, two new apartment-style residence halls were completed.
The six residence halls, known collectively as "The Apartments" are three stories tall and have room to house 48 students.
Housing accommodations in the apartments include a living room, a 'mini-kitchen" featuring a sink, refrigerator, four private bedrooms, and two bathrooms. Washer and dryer units are also included in each apartment.
There are four apartment units on each floor, each unit having four residents. Each building has 48 residents. The exterior of the buildings are brick and are compatible with the classic turn-of-the-century architecture in some of the campus's historic buildings, including Welty-Craig, Virginia, and McCormick halls.
In 2003, the building known as apartment "A" was named Mastrapasqua Hall in honor of Dr. Frank Mastrapasqua. The remaining apartments simply remain "B", "C", "D", "E" and "F".