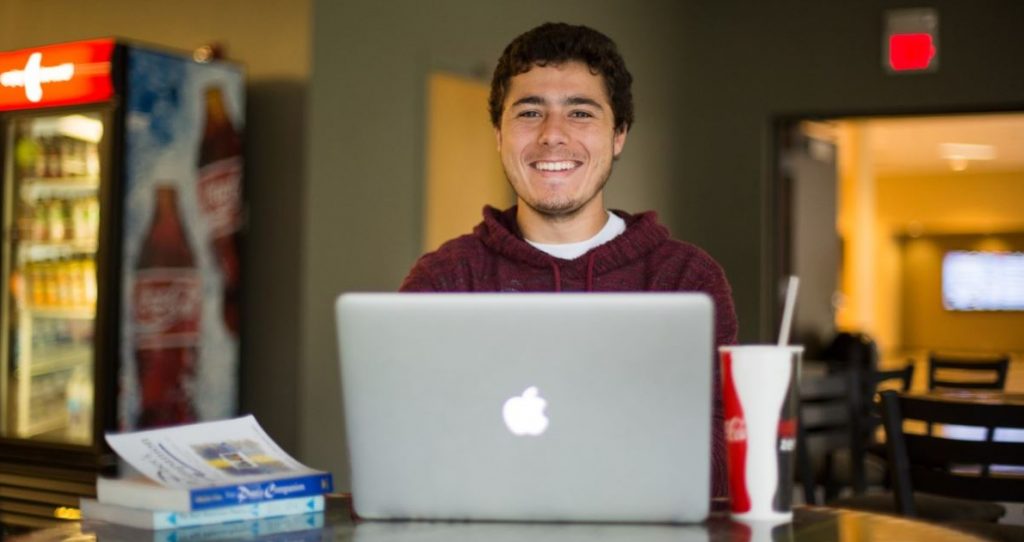 Pursue Your Passion in the Scientific Study of Mind and Behavior!
New Concentration in both Neuroscience and Industrial Organizational Psychology 
At Tusculum, our students explore the entire field of psychology. This means you will come to understand how theories are supported by data gathering and experimental evidence, and develop critical thinking skills to evaluate research contributions to the field. In addition to our emphasis on the scientific method, we focus on how psychological knowledge and thinking shapes our lives, communities, and world while encouraging the development of active, professional, ethical, and responsible citizenship. To this end, the program strongly emphasizes the integration of classroom knowledge and scientific thinking with real-life applications. This is facilitated by our small class sizes, which provide the opportunity for individualized attention from your instructors.
The psychology program prepares you for a wide range of careers. You may want to pursue careers in the helping professions, such as social service, health, corrections, or rehabilitation. Because psychology majors have experience in collecting, evaluating, synthesizing and reporting information, you may seek employment in administrative, public affairs, business, or computer programming positions. Many students decide to continue their education beyond the undergraduate degree, and enter graduate programs leading to master's or doctoral degrees in any of the specialties within psychology (clinical, physiological, social, community) or closely related fields (counseling, social work, law, etc.). You may also choose to combine an undergraduate psychology degree with an advanced degree in law, business, education, or some other academic or professional field.
For more information regarding course requirements, please refer to the catalog.

BEHAVIORAL HEALTH
TRADITIONAL & AOS
The Behavioral Health concentration focuses on the connection between bio-psycho-social-spiritual components of thoughts and actions. While this concentration does include a study of mental health issues including causes, interventions, management, etc., it also focuses on positive psychology and how people generally improve their life in meaningful ways. This concentration prepares students to work with and support individuals with a variety of needs as well as prepare them to take the next step in a graduate counseling or clinical psychology programs.
---
GENERAL-EXPERIMENTAL
TRADITIONAL
This psychology concentration provides students the opportunity to explore the broader field of psychology through empirical research methods. To this end, this concentration strongly emphasizes the integration of classroom knowledge and scientific thinking with real-life applications. Students, under the supervision of a faculty mentor, will develop their own line of research and scientific inquiry. This concentration is an excellent choice for students wishing to continue their studies with a master's or Ph.D. with many students continuing their studies in the fields of cognitive psychology, social psychology, etc.
---
INDUSTRIAL ORGANIZATIONAL
TRADITIONAL & AOS
Industrial-Organizational psychology (I/O Psychology), is the application and scientific study of human behavior within organizations and work environments. In general, I/O Psychology focuses on issues such as recruitment, selection and placement, training, development, performance evaluations, employee motivation, reward systems, work life balance, quality of work life, work structure, and consumer behavior, just to name a few. I/O psychologist commonly work in industry, government, academia, and as consultants. I/O Psychology provides students for a wide range of professions within industry that works with and supervises people as well as evaluating performance of both employees and the organization as a whole.
---
NEUROSCIENCE New
TRADITIONAL
The Neuroscience concentration is an interdisciplinary degree that includes courses such as behavioral neuroscience, psychopharmacology, neuroanatomy, and endocrinology. Students will obtain the fundamentals of neuroscience via the classroom with a major emphasis on laboratory skills and research. Students within this concentration will be prepared to continue within the neuroscience field and related sub-disciplines in graduate school and beyond (e.g., clinical psychology, medicine, pharmacy, veterinary medicine, academia, medical industry, or scientific publication).