GREENEVILLE – Family-friendly fun centered around traditional favorites such as vendors, musicians and children's play areas will greet guests at the upcoming Old Oak Festival at Tusculum University.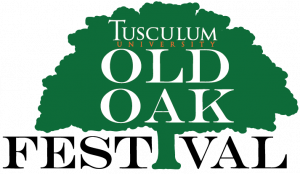 The Old Oak Festival will be held Saturday, April 23, and Sunday, April 24.
This year's festival, which will be held on the Greeneville campus Saturday, April 23, andSunday, April 24, will be the 25th edition for Tennessee's first higher education institution. Abundant activities will be available for people of all ages from 9 a.m.-8 p.m. April 23 and 10a.m.-5 p.m. April 24.
"We're thrilled to bring back one of our favorite annual events and welcome residents throughout the region to join us on our scenic campus," said Nicole Rader, director of alumni and community engagement. "A broad spectrum of activities will appeal to our guests and enable them to relax and enjoy themselves. After a two-year absence due to the coronavirus, we are excited everyone can come together again for the Old Oak Festival at such a beautiful time of year."
The festival will include a new event this year – the Old Oak Show & Shine car show, which will feature vintage vehicles for everyone to enjoy in the parking lot of the Scott M. Niswonger Commons. Guests are welcome to look at and reminisce about the vehicles, and they will have an opportunity to vote on their favorite. The vehicles will be present from 10 a.m.-4 p.m. Saturday.
Two additional events connected with the Old Oak Festival will take place in the Annie Hogan Byrd Fine Arts Center. Caleb Johnson & The Ramblin Saints will perform Saturday at 7 p.m. in the Marilyn duBrisk Theatre, and one of the six "Schoolhouse Rock Live! Jr." performances will be held at 2 p.m. Sunday in the Behan Arena Theatre. Johnson is the winner of the 13th season of "American Idol," and his brother is a Tusculum student. The concert will serve as a fundraiser for Tusculum's arts program.
On Sunday, Tusculum Baptist Church will hold a service at 10 a.m. at the Doak House Museum.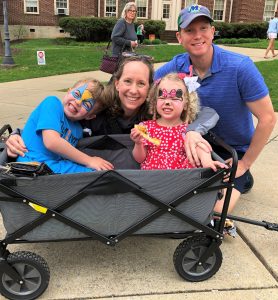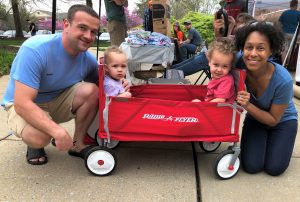 All other elements of the festival will be available both days. Located in the Library Bowl between the Thomas J.
Garland Library and the Old College and in the shade of the Old Oak Tree, musicians will play from noon-7 p.m. Saturday and noon-5 p.m. Sunday. Country, bluegrass and rock will be the primary genres on Saturday, and Christian and gospel music will be Sunday's focus.
The university has assembled more than 70 vendors, which include craftsmen, artisans and boutiques, many of which will be stationed in the area of the Tusculum Arch, McCormick Hall and the library. Other vendors will be located on the main floor and lower level of the library.
The festival will also have several food vendors, who will provide a variety of delicious food items in front of the Niswonger Commons.
Another popular event throughout the festival will be Authors' Row, where writers will showcase their works on the main level of the library. As a bonus, some authors will read from their works. They are Tusculum students who won Curtis and Billie Owens Literary Awards at 11 a.m., alumna Serina Marshall at 1 p.m. and Jan and Clay LaPerle at 4 p.m. Their readings will take place where displays of art, provided by the Greeneville Arts Council, will be shown near Authors' Row.
The Kiddie Korner children's play area in the Quad in front of the Niswonger Commons will be open from 10 a.m.-4 p.m. Saturday and noon-5 p.m. Sunday. Attendees can also visit the Tusculum bookstore inside the Niwonger Commons, where merchandise will be available for sale.
Authors' Row is a popular part of the Old Oak Festival.
Wayne Thomas, center, dean of the College of Civic and Liberal Arts, reunited with former students Ben Sneyd, Justin Phillip Reed, Brittany Connelly and Emily Warwyck at the 2019 Old Oak Festival.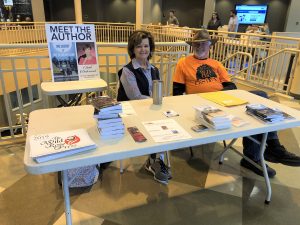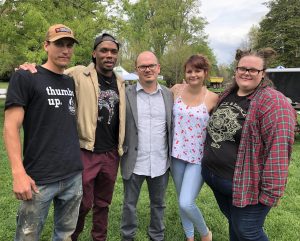 All activities associated with the festival except for the Caleb Johnson concert and "Schoolhouse Rock Live! Jr." are free. Tickets for Caleb Johnson are $25 and available at https://arts.tusculum.edu/. Tickets for "Schoolhouse Rock Live! Jr." are $17 for anyone 12-59, $15 for anyone 60 and older and $5 for anyone younger than 12 and are available by emailing Jennifer Hollowell, director of Tusculum's Center for the Arts, at jhollowell@tusculum.edu or calling 423-798-1620.
"Our connections to the community are important to all of us at Tusculum, and we look forward to seeing old friends and meeting new ones throughout the region on our campus," Rader said. "Now that spring has arrived and the days are warmer, our festival is a great opportunity to come outdoors and celebrate this special time of year."
Guests are encouraged to use the parking lots next to the Meen Center at the Indoor Practice facility and use the free shuttles to the areas where festival activities are taking place. Campus safety officers and other Tusculum representatives will be available to assist guests in reaching their destination. A campus map is available at https://bit.ly/3v2J9RB.
Additional festival details, including the schedule, are available at https://web.tusculum.edu/oldoakfestival/.
Social Share