BY JIM WOZNIAK ON MARCH 23, 2022
GREENEVILLE – Caleb Johnson, the season 13 winner of "American Idol," will bring his powerful vocals to Tusculum University for a fundraising concert that will energize the crowd and enable the university to continue bringing major acts to the area at affordable prices.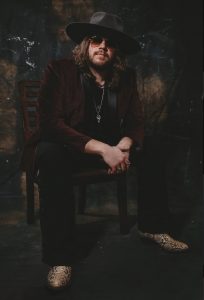 Johnson will hit the stage at 7 p.m. Saturday, April 23, in the Marilyn duBrisk Theatre with his band, the Ramblin Saints, and will continue to rock well into the evening. He will bring his special brand of rock, honed in hits such as "I Just Want to Celebrate" and "Glory Bound," to an audience yearning to hear his thunderous voice.
"Kick-start your spring on our campus with one of the best young talents in the business," said Jennifer Hollowell, director of Tusculum's Center for the Arts. "Caleb's terrific vocals will pulsate the theatre, and the crowd will feed off his passion to present rock-n-roll at its finest. You won't want to miss one of the rising stars in rock at a bargain of a price."
Tickets are just $25 apiece and can be purchased online at https://arts.tusculum.edu/caleb-johnson/. Those who buy a ticket can pick them up at the will-call window at Annie Hogan Byrd Fine Arts Center, which houses the Marilyn duBrisk Theatre, the night of the concert.
The event will raise funds to support Tusculum Arts Outreach, which provides access to exceptional programs to people of all ages regardless of their income. A ticket to most Tusculum programs still costs less than a movie ticket, and the university is committed to keeping prices affordable for everyone. Financial support from the community will also provide the resources for Tusculum to bolster its arts equipment.
Not only is Johnson proving himself on his own, he has also aligned himself with some of the biggest names in the business along the path. He has toured with the legendary rock band Kiss as well as Black Stone Cherry and Trans-Siberian Orchestra. His studio band includes world-class drummer Jason Bonham, son of the late John Bonham, drummer for the rock band Led Zeppelin.
Here is how some of the people with whom he has rubbed elbows succinctly describe Johnson:
"He's got the goods," said Gene Simmons, Kiss' co-lead singer.
"He's one of the greatest singers I've ever heard," Jason Bonham said.
"This guy can sing," said Brian May, lead guitarist of the rock band Queen.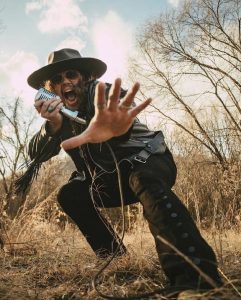 Johnson is from Asheville, North Carolina, and he has a brother who is a Tusculum student. He rocketed to stardom after winning the "American Idol" title, a run that included his version of "Dream On" by the rock band Aerosmith.
Following that success, he released a solo album, "Testify." He subsequently formed Caleb Johnson and the Ramblin Saints, which released its first album, the critically acclaimed "Born from Southern Ground," in 2019. Then in 2021, the band released "Mountain Mojo Vol. 1" as its second album.
"This is the best record I've done to date," Johnson said of album two. "Words cannot describe the gratitude I have to this amazing cast of musicians and team that brought this vision to life in such uncertain times. That is the power of music. Making this record got me through 2020."
Looking at the concert with a wider lens, Wayne Thomas, executive director of Tusculum Arts Outreach and dean of the College of Civic and Liberal Arts, said the event is a great example of what the university has achieved for years through its arts programming.
"Throughout the pandemic, we have been one of the few in the nation to continue providing quality live programming, but that required a great deal of financial resources," Thomas said. "We're now asking for help and greatly appreciate any financial gifts from the community to keep this tradition of excellence going at affordable prices. The arts strengthen the quality of life and bring people joy. Financial support from the community makes that happen."
In addition to buying a ticket, community members can donate to Tusculum Arts Outreach at https://arts.tusculum.edu/caleb-johnson/.
More information about Johnson is available at https://calebjohnsonofficial.com/. To learn more about the university and its arts programs, please visit www.tusculum.edu.
Social Share