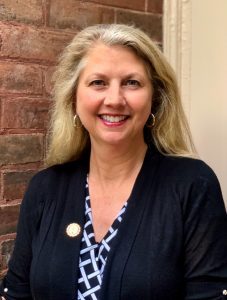 Vice President of Enrollment Management and Financial Aid
Email: rwilliams@tusculum.edu

Direct Line: 423-798-1623
Campus Phone: 5623
Campus Mail: P.O. 5051
Office: Virginia Hall
Department: Enrollment Management
Campus or Site Location: Greeneville

---
Dr. Ramona Williams joined Tusculum University in 2019.  She serves as vice president of enrollment management and financial aid and oversees a highly skilled team at Tennessee's first higher education institution. Her areas of responsibility include the offices of undergraduate and graduate admissions, financial aid, registrar, communications and marketing. Dr. Williams is a member of the Executive Cabinet.
She has over 30 years of experience in higher education with a broad-based knowledge of recruitment, admissions, registration, financial aid, scholarships and marketing.  Throughout her career, she overseen the launch and advancement of several programs that have focused on student services,  retention initiatives and enhanced campus communication as well as work with advising, TRIO and veterans affairs.
Dr. Williams is a collaborative leader with significant, progressive and proven experience focused on successful enrollment strategies in support of the university's strategic plan and goals. She believes in motivating and mentoring her team to improve processes, strategies, communication that will strengthen the student experience. She is also focused on keeping open lines of communication with the campus community regarding enrollment trends and environmental changes.
She is a strong advocate for the academic mission of the university. She has seen firsthand what a difference higher education can make for someone. The ability to interact with and positively influence students stimulated her initial interest in a career in higher education and continues to motivate her today. Higher education is her life's calling, with student success and greater opportunity the ultimate goal.
Dr. Williams holds a bachelor's degree in political science, a master's in counseling and guidance and a doctorate in education, all from East Tennessee State University. She is also a graduate of Leadership Greene County Class of 2020.