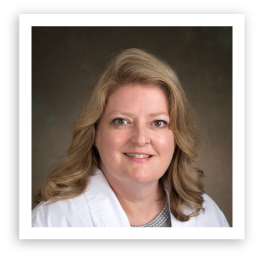 Interim Dean of Nursing
MSN Program Director
Assistant Professor of Nursing
Email: swall@tusculum.edu

Direct Line: 423-636-7431
Campus Phone: Ext. 5431
Campus Mail: P.O. Box 5035
Office: Meen 308A
Department: College of Nursing
Campus or Site Location: Greeneville

---
Dr. Susan Wall joined Tusculum University in 2017 and serves as an the MSN Program director and assistant professor of nursing.  She was born in Maryland and grew up on the shores of the Chesapeake Bay before moving to Central Virginia in her mid-teens. From an early age, she was fascinated with health and the body and was certain by age five that she wanted to be a nurse.   In 1997, she married the love of her life and relocated to North Carolina. Together they have one son.
She received her associates degree in nursing from Rockingham Community College and then proceeded to obtain her Bachelor of Science in Nursing from University of North Carolina at Greensboro while working full-time as a bedside nurse.  She then earned her Master of Science in Nursing Education from University of North Carolina at Charlotte with the goal to teach nursing and influence the delivery of healthcare.
In 2007, her family permanently relocated to Knoxville.  She continued her educational endeavors and graduated from the University of Tennessee at Chattanooga as a Family Nurse Practitioner as well as a Doctorate of Nursing Practice.  She has extensive clinical experience and expertise from over 20 years of nursing experience.
DNP, Family Nurse Practitioner, University of Tennessee at Chattanooga
MS, Nursing Education, University of North Carolina at Charlotte
BS, Nursing, University of North Carolina at Greensboro
AS, Nursing, Rockingham Community College