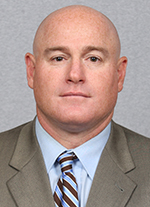 Head Football Coach
Email: jodom@tusculum.edu

Direct Line: 423-636-7459
Campus Phone: 5290
Campus Mail: P.O.
Office:
Department: Athletics
Campus or Site Location: Greeneville

---
Jerry Odom was named the head football coach at Tusculum College on Dec. 14, 2015. He becomes the 17th head football coach in program history and the fourth since the reinstatement of the sport in 1991.
Odom, a 25-year football coaching veteran, boasts a strong lineage of experience at the collegiate and professional ranks where he has mentored 15 NFL players and coached in five postseason bowl games including the Orange Bowl, Sugar Bowl and Outback Bowl.
The Merritt Island, Florida native served six seasons as the associate head coach at NCAA-FCS Jacksonville University from 2010-2015 where he was the chief architect of some of the best defensive units in JU history.  While at the Jacksonville, Florida school, Odom helped guide the Dolphins to 47-19 overall record, including a pair of 9-2 campaigns in his last two years at JU.
In 2015, his defense led the nation for a second consecutive year with 20 interceptions, while also forcing 10 fumbles resulting in 30 turnovers gained, the third-best tally in the country.  The Dolphins finished 2015 ranked 11th in team tackles for loss, 11th in team sacks (33), 12th in passing efficiency defense (104.7), 15th in scoring defense (19.1 ppg), 17th in red zone defense (68.4%), 23rd in total defense (326.2 ypg) and 23rd in rushing defense (127.4 ypg).
In 2014, Odom's defense led the country with 24 interceptions and was the Pioneer League statistical champion for scoring defense (17.5 ppg – 6th in NCAA-FCS), passing efficiency defense (98.9 – 3rd in NCAA-FCS) and turnovers gained (33 – 2nd in NCAA-FCS).  The Dolphins were also nationally-ranked in total defense (334.5 ypg – 23rd in NCAA-FCS) and rushing defense (135.9 ypg – 19th in NCAA-FCS).
During his tenure at Jacksonville, 47 defensive players earned All-Conference recognition, including a Pioneer League-best 10 honorees in 2015.
Prior to joining the JU staff, Odom was the associate head coach and special teams coordinator with the Philadelphia Soul of the Arena Football League from 2008-2009. The Soul tied the AFL single-season wins record with 17 victories, while capturing the world championship.
Odom was also the head coach at Coffee County High School in Douglas, Georgia from 2005-2007.  His teams posted a 22-12 record for the best three-year run in school history.  After going 4-6 in his first season, the Trojans put together back-to-back nine-win campaigns for the first time ever.  For his efforts, he was named the 2006 Region 1-5A Coach of the Year, which has been recognized as the toughest high school football region in the country by USA Today.
From 2003-2005, Odom was the defensive coordinator/special teams coordinator at East Carolina University.  While at the Greenville, North Carolina program, ECU led Conference USA in kickoff returns, punt returns and kickoff coverage.  While with the Pirates, Odom also recruited the likes of running back Chris Johnson, who went on to become the NFL's leading rusher in 2009 with the Tennessee Titans.
From 2000-2002, he served as linebackers coach and special teams coordinator at the University of Florida as Odom helped lead the Gators to a top-10 ranking in total defense in each of his three seasons in Gainesville.  He mentored All-Southeastern Conference linebacker Andra Davis, who finished as a national semifinalist for the 2001 Butkus Award.  His linebacker corps sparked a Gator defense that was ranked 18th nationally.  Florida went 28-10 during that three-year span, including a 10-3 record while capturing the 2000 SEC Championship and advanced to the Sugar Bowl.  The 2001 team went 10-2 and knocked off Maryland in the Orange Bowl.  Florida finished 8-5 the next year and earned a bid to the Outback Bowl.
Odom played collegiately at Florida where he was a four-year letterman at inside linebacker for the Gators from 1987-1990.  He started in every game in his junior and senior campaigns on a defense that was among the nation's top-five in total defense in 1988, 1989 and 1990.  His senior squad tied for first place in the 1990 SEC standings with a 9-2 record as he led the Gators in tackles for a second consecutive season while earning All-SEC third team honors. He was an All-SEC Freshman Team selection in 1987 and was tabbed to the SEC Academic Honor Roll in 1990 while also serving as the Gators' team captain.
Odom served as a graduate assistant coach on the Florida staff in 1991 as the Gators won the SEC Championship with a 10-2 record and played in the Sugar Bowl.
He has coached at various high schools in Florida and also served as a graduate assistant at Texas Christian University under Pat Sullivan.
From 1992-1998, Odom played professionally with the AFL's Orlando Predators for seven seasons as a linebacker/running back.  He helped the Predators to four Arena Bowl appearances (1992, 1994, 1995, 1998) and won the title in 1998.  He retired as Orlando's career rushing yardage leader and ranked fifth in AFL history.
Odom graduated from Florida in 1991 while majoring in health and human performance with a minor in education.
He is married to the former Donna Carter of Charleston, South Carolina and they are the parents of two sons, Reid and Clay.