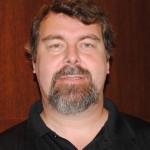 Technical Director and Stage Manager
Email: fmengel@tusculum.edu

Direct Line: 423-636-0559
Campus Phone: Ext. 5559
Campus Mail: P.O. Box 5058
Office: Annie Hogan Byrd 123
Department: Arts Outreach
Campus or Site Location: Greeneville

---
Frank Mengel is our Arts Outreach and Tusculum College Technical Director and comes to us from Anchorage, Alaska. He joined Arts Outreach in the fall of 1998.
Besides being a whiz Technical Director, he also boasts a knowledge of mathematics.  After obtaining his Master of Arts from Wichita State University, Frank has participated in a long list of productions and has received numerous awards & honors relating to his technical work, including Outstanding Technician for Mommy Dance in ActFest '95.
So far as we can tell, Frank is enjoying his Tusculum College Experience. And he married a gorgeous local, Paige Malone, and as such, he has decided to stay awhile.  …He just wishes it was colder.
M.A. Communication — Theatre, Wichita State University
B.S. Mathematics, University of Alaska Anchorage
B.S. Secondary Education, University of Alaska Anchorage