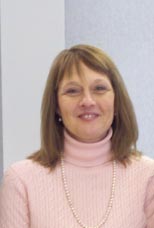 Assistant Professor of Education
Email: bloveday@tusculum.edu

Direct Line: 423-636-7300 ext. 5032
Campus Phone: Ext. 5032
Campus Mail: P.O. Box 5008
Office: Knoxville Regional Center
Department: College of Education
Campus or Site Location: Knoxville

---
Betsy Loveday, Assistant Professor of Education, began her professional career as a certified special education teacher with Knox County Schools. She moved to Memphis, Tennessee then Columbia, South Carolina where she continued teaching in the classroom. Later she became a Clinical Assistant Professor of Special Education at the University of South Carolina then Assistant Professor of Education at Carson-Newman College. Prior to coming to Tusculum as a full-time faculty member, she served as an Educational Consultant in the southeastern states in addition to her adjunct teaching responsibilities here.
Dr. Loveday earned her doctorate in Special Education at the University of South Carolina, and received a Master of Education from Memphis State University. At Tusculum, she teaches education courses in both the BAED and MAED programs.
Betsy and her husband, Hollis, have two daughters – Hannah and Kara. The family also shares its home with an English Bulldog named Sissy. The Loveday family is involved at Smithwood Baptist Church in Knoxville where they teach Children's Worship, host a bi-weekly children's book club, and engage in annual foreign mission trips. The family enjoys spending time together at the beach and international travel.
PROFESSIONAL ORGANIZATIONS
Council for Exceptional Children
CEC-Division for Learning Disabilities
International Reading Association
Association for Supervision and Career Development
Ed.D., Special Education, University of South Carolina
M.Ed., Memphis State University