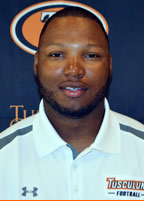 Assistant Football Coach
Email: jlaster@tusculum.edu

Direct Line: 423-636-7300 ext. 5451
Campus Phone: Ext. 5451
Campus Mail: P.O. Box 5022
Office: Rankin Hall
Department: Athletics
Campus or Site Location: Greeneville

---
J.J. Laster was named assistant football coach at Tusculum College in January, 2016. His duties will include coaching the Pioneer running backs and serving as the team's recruiting coordinator..
Laster comes to Tusculum after a distinguished playing career at Jacksonville University, where he was a two-time All-Pioneer Football League selection and helped the Dolphins to conference championships in 2008 and 2010.
In 40 career games with the Dolphins from 2008 to 2011, Laster ran for 1,796 yards on 343 carries (5.2 yards per carry) with 19 touchdowns, while adding 67 receptions for 606 yards and two scores. Laster led FCS with 8.5 yards per rush in 2010 as he gained a career-best 810 yards on 95 carries with seven touchdowns to earn first-team all-PFL honors. As a senior, Laster had 610 yards rushing and 10 touchdowns, while catching 41 passes for 317 yards and one score and was named second-team All-PFL.
After his playing career ended, Laster served as a running backs coach at Allen D. Nease High School in Ponte Vedra Beach, Florida before returning to Jacksonville in 2013 as a graduate assistant coach working with the linebackers. In two seasons, Laster helped the Dolphins develop six All-PFL selections while assisting in the development of the defensive game plan.
Laster was most recently the running backs coach at Rockledge High School in Brevard County, Florida, where he oversaw the summer speed and conditioning workout program and helped with all other aspects of the offseason program.
Jesse James Laster, Jr. is a native of Graceville, Florida, where he set the school career rushing record at Graceville High School before attending Jacksonville. He earned a bachelor of arts degree in geography from Jacksonville in 2012 and a master of education in leadership and learning in 2015.