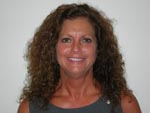 Assistant Professor of Mathematics
Email: dgietema@tusculum.edu

Direct Line: 423-636-7300 ext. 5354
Campus Phone: Ext. 5354
Campus Mail: P.O. Box 5021
Office: Meen Center 108F
Department: College of Science, Technology & Mathematics
Campus or Site Location: Greeneville

---
Deborah Gietema came to Tusculum University in 2011 and is presently teaching Developmental Mathematics.
Prior to coming to Tusculum, she taught mathematics in middle school and high school.  Before entering the education profession, Deborah worked 14 years in the travel business as co-owner of United World Travel in Morristown.
Her interests include trail running, reading and travel.
M.S. Mathematics Education, University of Tennessee
B.A. Liberal Studies Teacher Education, Carson-Newman College