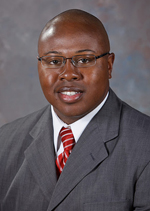 Director of Men's and Women's Lacrosse
Email: rcarrington@tusculum.edu

Direct Line: 423-636-7378
Campus Phone: Ext. 5378
Campus Mail: P.O. Box 5248
Office: Rankin 210
Department: Athletics
Campus or Site Location: Greeneville

---
Richard Carrington was named Tusculum College's first Director of Lacrosse in December 2012 and is entering his third season at the helm of the men's lacrosse program.
The Pioneers showed marked improvement in its second season of men's lacrosse. 2015 saw the Pioneers achieve five wins for a second consecutive year, despite significantly increasing its strength of schedule. In 2014, only three games were decided by two goals or less, while the 2015 squad played in six contests decided by two or fewer goals. In South Atlantic Conference competition, Tusculum posted a two-win improvement from 2014.
Tusculum was one of six new NCAA Division II men's lacrosse programs in 2014.  Carrington led the Pioneers to a 5-8 overall record in the program's inaugural season. Those five wins were the highest victory total for any first-year NCAA Division II men's lacrosse team in 2014.
During Carrington's tenure at Tusculum, he's mentored two All-South Atlantic Conference honorees. Mitch Chapman (2014 All-SAC 2nd Team) and Nate Wade were both garnered SAC honorable mention recognition in 2015.  Goalie Kevin Haggerty was also selected SAC Defensive Player of the Week on two occasions in 2015.
Carrington provides a tremendous level of experience, knowledge and energy to Tusculum and has been heavily involved in the building process of successful programs at all levels during his career.
Carrington came to Tusculum after serving the 2011-2012 campaign on the coaching staff at NCAA Division I Virginia Military Institute.  While at the Lexington, Virginia school, Carrington helped to institute a revamped Keydet defense that allowed the fewest goals in Metro Atlantic Athletic Conference (MAAC) play since 2009. The defense was crucial in several contests in holding opponents under 10 goals in three of the last four games, and helping VMI win those three games. One of his defense's shining moments of 2012 came in a 6-2 setback against 16th-ranked Lehigh, which went on to a No. 7 ranking and a spot in the NCAA Tournament.
The Charlottesville, Virginia native also directed VMI's man-down unit, which killed off 70.8 percent of the Keydets' penalties and finished the season ranked 19th in the country. The leap to 70.8 percent on the man-down was a 20-point jump from 2011, where VMI finished last in the country in that category.
Prior to VMI, Carrington served as the head men's lacrosse coach at NCAA Division III Alvernia University in Reading, Pennsylvania and NCAA Division II Chestnut Hill College in Philadelphia, Pennsylvania. Carrington founded the men's lacrosse program at Chestnut Hill and was responsible for recruiting the 37-member inaugural class representing 10 different states and Canadian provinces.
Carrington has also had assistant coaching stints at his alma mater Mars Hill University and Kenyon College in Gambier, Ohio. In 2008, Carrington helped Mars Hill to the program's first conference championship.
Carrington earned a Bachelor of Arts degree from Mars Hill in 2003. As an undergraduate he competed as a four-year defensive starter for the Lions and graduated as Mars Hill's career ground ball leader (268).