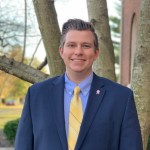 Coordinator of Residence Life and Housing
Email: jcadwallader@tusculum.edu

Direct Line: 423-787-8377
Campus Phone: Ext. 5015
Campus Mail: P.O. 5049
Office: Niswonger
Department: Student Affairs
Campus or Site Location: Greeneville

---
Jarred Cadwallader serves as the coordinator of residence life and housing. In this role, he oversees all of the student housing placements on campus as well as supervising resident assistants. An important element of Jarred's role is ensuring RAs are fostering more student interaction and connection to promote a friendly and home-like atmosphere in the residence halls so students feel as much a part of their Tusculum family as they do their personal family.
Jarred develops and implements initiatives like residence hall wars, a point-based competition that incorporates physical activities and brain games to build pride in one's hall.
Prior to serving as TU's coordinator of residence life and housing, Jarred served as an enrollment representative for the Tusculum College of Business. Prior to joining Tusculum in January 2019, he served as area coordinator for housing at King University.