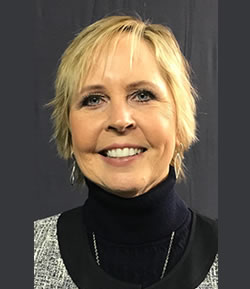 University Registrar
Email: sburnette@tusculum.edu

Direct Line: 423-787-8354
Campus Phone: 5243
Campus Mail: P.O. 5050
Office: Virginia Hall G01
Department: Office of the Registrar
Campus or Site Location: Greeneville

---
Burnette returns to Tusculum in June after successfully serving as registrar for East Tennessee State University since 2007. She led a 20-member team that was responsible for the long-term planning, administration, maintenance and monitoring of university academic records. She also played an integral role in student performance monitoring, NCAA academic eligibility determination, curriculum maintenance and catalog production.
Prior to joining the ETSU leadership team, Burnette was a member of the Pellissippi State Community College staff for 23 years. She served as registrar for the last five years, overseeing a team of 12 people. Earlier, she served as manager of records and articulation for four years, a graduation analyst for 11 years and a records clerk for three years.
Burnette graduated from Tusculum in 1998 with a Bachelor of Science degree in organizational management and in 2006 with a Master of Arts in education, with a human resource development concentration. She said she will be a champion for Tusculum students, faculty, staff and the community as the university's registrar.