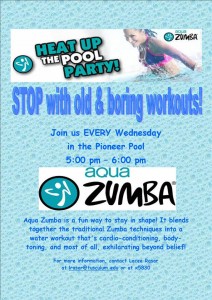 Mark your calendars for an exciting workout!
Aqua Zumba will be held in the Pioneer Pool at 5:00 pm on:
1/29
2/12
2/19
2/26
3/5
3/19
3/226
4/2
4/16
4/23
4/30
Aqua Zumba is a fun way to stay in shape! It blends the traditional Zumba techniques into a water workout that is cardio-conditioning, body-tonig and most of all, exhilarating beyond belief!
For more information, contact Lacee Rasar at lrasar@tusculum.edu or call x5830