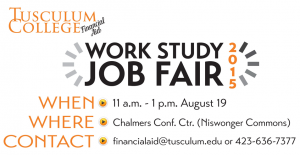 On August 19th we are holding a Job Fair in Niswonger Commons, Chalmers Conference Center from 11am to 1pm. You will have a chance to meet with Supervisors and interview for a position within their departments. Human Resources and Financial aid representatives will be present to answer questions and complete required employment documentation.
All students wishing to participate in the work Study program will need to complete the Work Study Authorization Form and Work Study Contract for Financial aid, as well as the I9 and W4 for Human Resources before you can begin working. Students will not be cleared to work until these forms are complete.
In order to complete the paperwork for Human Resources you will need to bring two forms of Id as listed here.
You can apply online for work study here, however this application does not exempt a student from participating in the job fair. Go through the descriptions to find the form you need. At this time the only the form available is the online application.

To download the form in Microsoft Word format, click the MS Word icon
To download the form in Adobe Acrobat format, click the Acrobat icon
To fill out form online, if available, click on the Internet icon
| | | | |
| --- | --- | --- | --- |
| Word | PDF | Online | Document Description |
| - | - | | Online Workstudy Application |