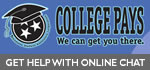 GRANTS
GRADUATE & PROFESSIONAL STUDIES UNDERGRADUATE PROGRAM
Federal Pell Grant
Federal Supplemental Educational Opportunity Grant (SEOG)
* Tennessee Student Assistance Award (TSAA)
* Must be a Tennessee Resident
* Federal Academic Competitiveness Grant (ACG)
* Must be a 1st or 2nd year undergraduate student
RESIDENTIAL UNDERGRADUATE PROGRAM
Federal Pell Grant
Federal Supplemental Educational Opportunity Grant (SEOG)
* Federal Academic Competitiveness Grant (ACG)
* Must be a 1std or 2nd year undergraduate student
* Federal National Science & Mathematics Access to Retain Talent Grant (SMART)
* Must be a 3rd or 4th year undergraduate student
Tusculum College Grant (merit based)
Tusculum College Opportunity Grant (need based)
* Tennessee Student Assistance Award (TSAA)
* Must be a Tennessee Resident
TYPICAL SCHOLARSHIPS
GRADUATE & PROFESSIONAL STUDIES UNDERGRADUATE PROGRAM
* Tennessee Education Lottery Scholarship Program

* Must meet state eligibility requirements listed at www.collegepaystn.com
RESIDENTIAL UNDERGRADUATE PROGRAM
* Tennessee Education Lottery Scholarship Program

Hope Scholarship
General Assembly Merit Scholarship
Aspire Award
Hope Access Grant

* Must meet state eligibility requirements listed at www.collegepaystn.com

Tusculum College Scholarships (merit based)
Tusculum College Athletic Scholarships
LOANS/OTHER AID
GRADUATE & PROFESSIONAL STUDIES UNDERGRADUATE AND GRADUATE PROGRAMS
Federal Subsidized Stafford Loans
Federal Unsubsidized Stafford Loans
Federal Parent Loan for Undergraduate Students (PLUS)
Federal Perkins Loan
Work-Study (Eligibility is based on need and availability. To be considered, submit your FAFSA early!)
RESIDENTIAL UNDERGRADUATE PROGRAM
Federal Subsidized Stafford Loans
Federal Unsubsidized Stafford Loans
Federal Parent Loan for Undergraduate Students (PLUS)
Federal Perkins Loan
Work-Study (Eligibility is based on need and availability. To be considered, submit your FAFSA early!)
FEDERAL STAFFORD LOAN PROGRAM
Stafford loans are awarded based on a student's dependency status, grade level, financial need, and cost of attendance. Both undergraduate and graduate students may borrow in this program. These loans will be subsidized based on the need of a student and the federal government will pay the interest while the student remains enrolled at least half-time. Need is calculated by taking the cost of attendance and subtracting the expected family contribution less other aid. Unsubsidized loans are also available based on the student's cost of attendance and other financial aid. These loans require the student to pay or accrue the interest while enrolled, although the principal amount of the loan is deferred. Borrowers begin repaying both subsidized and unsubsidized Stafford loans at the end of at least half-time enrollment. Interest rate is fixed at 6.80 percent.
FEDERAL PARENT PLUS LOAN PROGRAM
Federal PLUS loans are available to parents of dependent undergraduate students. Offered at a fixed interest rate of 8.50 percent. Repayment begins 60 days after the second disbursement of the loan and continues while the student is enrolled. The maximum repayment period is 10 years.
FEDERAL PERKINS LOAN PROGRAM
Federally funded loans borrowed from Tusculum College at a 5.00 percent fixed interest rate for both undergraduate and graduate students. Repayment begins nine months after a student ceases at least half-time enrollment.